SCDC Technology
At Scripps Center for Dental Care, we continually update our practice in order to offer our patients the very best in technology, amenities, techniques, and materials. We are proud to employ the latest in laser dentistry technology, which we incorporate into a multitude of procedures, including dental hygiene and surgical procedures. To make sure that our patients' visits are as effective and efficient as possible, our office also features all-digital radiography, dental imaging, digital impressions, and the latest dental microscopes. Our ultra-modern network and paperless software system allow us to retrieve and update our patients' dental records quickly and accurately, while our modern, while our ergonomic treatment chairs and delivery systems help to keep our patients comfortable and relaxed.
Utilizing the latest, most advanced dental technology at our practice allows our dental specialists to provide patients with the safest, most comfortable experience possible.
The Latest, Most Effective Dental Technology
Scripps Center for Dental Care is committed to using only the latest technology, including digital radiography, dental digital imaging, dental microscopes, digital impressions, and laser dentistry. We are constantly updating our practice with the latest advances in dental technology, a process that makes our patients' visits with us ever more relaxing, convenient, and efficient.
Laser Dentistry
The laser dentistry technology at our La Jolla practice enables us to provide a number of adjunctive services to ensure the health of our patients' mouths. These painless, minimally invasive procedures allow us to achieve more precise and more enduring results than were ever before possible. Among these are cosmetic dentistry procedures such as gum shaping for ideal smile results and dental hygiene procedures to decontaminate the pockets around teeth.
We also use lasers for advanced diagnostic procedures; as a result, we can now detect and remove incipient decay at a far earlier stage than was previously possible. Laser dentistry is used at our practice for the early detection and treatment of cold sores and oral lesions and for high-speed curing of white fillings. We also employ lasers for a number of oral and maxillofacial surgery procedures, as lasers are far more precise than other, more traditional surgical implements. With laser dentistry, our patients need much less anesthetic and achieve rapid healing, allowing our patients to remain comfortable.
Digital Radiography (X-Rays)
Scripps Center for Dental Care uses state-of-the-art digital radiography to conduct patient radiographs. This system greatly increases the efficiency of the x-ray process and offers many benefits to both the patient and the dentist. Benefits of this technology include:
Up to 90 percent less radiation than traditional film x-rays.
Instant digital radiographic images appear right on the screen.
Environmentally friendly – no chemical developing and waste.
Crisp, clear, high-resolution images.
With digital radiographs, a panoramic image of the patient's entire mouth appears on a monitor conveniently located in the treatment room. The easy-to-use features of digital radiography allow patients to see areas of concern quickly and with greater clarity than ever before. The patient and dentist can then spend more time reviewing the images together and discussing possible treatment options. For more information about this exciting new technology, please contact our La Jolla dental office.
Digital Dental Imaging
For our patients who wish to undergo smile design or any other cosmetic or restorative procedures that may change the appearance of their smiles, Scripps Center for Dental Care team are pleased to offer Digital Smile Design (DSD). With dental imaging, our dentists can use digital photography and the latest in computer imaging technology to give the patient a preview of what the new smile will look like. If you are considering an investment in your smile in the form of porcelain veneers, teeth whitening, or even a full smile makeover, we can use computer imaging to predict the outcome.
Dental Microscopes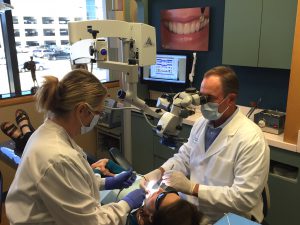 With dental microscopes, we can perform diagnostic examinations with more clarity and detail than ever before. The dental microscopes that we employ are ergonomically designed to be comfortable for our dentists to use for long periods of time, a feature that enables us to provide the most professional, thorough, and efficient treatment available. Our microscopes come equipped with integrated cameras so that we can project detailed images of our patients' mouths onto monitors in the treatment rooms, which allows patients to become more personally involved in their treatment and overall dental health.
An added benefit to our patients are the advanced features of our microscopes enableing us to provide information about their diagnoses and potential treatments much sooner than was previously possible. This saves our patients valuable time and money, and early detection allows us to begin dental treatment sooner, promoting stronger, more conservative dental health.
Digital Impressions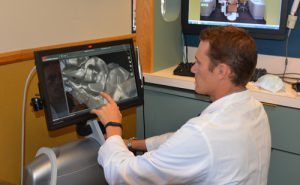 Gone are the days of trays, putty, choking on impression material and return visits. Scripps Center for Dental Care is one of the few San Diego offices to offer Digital Impression technology. Our patients' visits are even more comfortable and efficient than ever before with one of our newest technologies, the True Definition intra oral scanner. The digital impression scanner provides patients with the most comfortable, accurate digital impressions available. About the size of a toothbrush, the scanner comfortably scans teeth, capturing continuous three dimensional digital impressions. With digital impressions, our patients can view their teeth on the touch screen monitor and, in a matter of minutes, our dentists can examine precise modeling impressions and email the information directly to the lab technicians. Digital impressions result in excellent fitting crowns, veneers and bridges and saves time through shorter visits.
Sleep Apnea and Snoring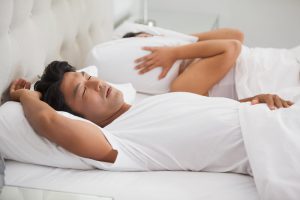 Do you think you have a sleeping problem?
Common signs of sleeping problems include snoring and daytime sleepiness. Heavy snoring can interrupt sleep and may negatively impact a person's health or personal relationships. Most importantly, snoring has been shown to be a predisposing factor to a much more significant condition known as sleep apnea. Sleep apnea is an actual cessation of breathing during sleep, which has been linked to health conditions such as hypertension, diabetes, cardiovascular disease and stroke, depression, anxiety disorders, sexual dysfunction, and memory loss.
At Scripps Center for Dental Care, our goal is for you to experience overall health and wellness. Improving your quality of sleep with dental solutions like oral appliance therapy is just another way that we can help you. Learn more about the snoring treatment options offered at our office.
Performance Mouthwear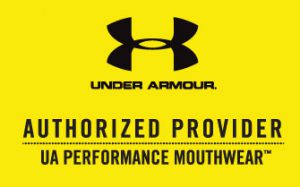 We are proud to announce that Scripps Center for Dental Care has been certified to offer a unique and incredible product to you. The Under Armour Performance Mouthwear powered by ArmourBite™ technology, which has fifteen years of research and development and the approval of satisfied professional, collegiate, amateur, and novice athletes. The technology is patented, the performance is proven, and the advantages are undeniable.
Now you can unlock the power you never knew was there, and your jaw is the key. You've probably never been told that your jaw could help you perform better, but that's because nobody knew. A few people were on to something hundreds of years ago: Ancient Greek athletes bit down on leather straps for an edge during competition; Viking and Roman warriors clamped down on leather bits for focus on the battlefield. They knew it worked, but the concept never evolved, until now.

Performance Mouthwear has been engineered to unlock your true power and potential. It's all in you, but it's blocked by one of the human body's instinctive reflex systems: teeth clenching. With safe, custom-built Performance Mouthwear, athletes in any sport-from golf to football, running to hockey, basketball to yoga-can capitalize on this innovative technology that reduces cortisol (the stress hormone) and lactic acid, helping to increase a person's performance levels.