Sports Dentistry
Participating in sports and other recreational events can improve your health and enhance your well-being. To protect you from injuries that can occur during exercise, our La Jolla dentists offer state-of-the-art mouth guards designed specifically for your needs and activities. Should an accident or damage occur, our skilled dental team can help treat your concern and get you back on the field, court, course, rink, or trail as quickly as possible.
If you have additional questions about sports dentistry, or if you would like to schedule a consultation with one of our dentists, please contact our office today.
Under Armour Performance Mouthwear™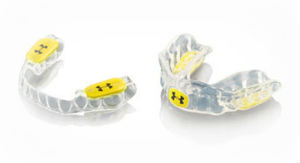 Designed with comfort, protection, and performance in mind, the Under Armour Performance Mouthwear™ collection offers customized mouth guards for nearly any recreational activity. The unique fit of the devices helps to maintain an open airway for improved breathing, and the high-quality material provides impact protection during contact sports. Additionally, the mouth guard can significantly reduce the risk of damage caused by clenching the teeth. UA mouth guards can be used for baseball, basketball, football, soccer, running, wrestling, Pilates, yoga, golf, and more. These custom guards can be made in any color and will have your name made in them to prevent any possible mix-ups on the field or court or wherever you athleticism takes you.
View ArmourBite™ UA Performance Mouthwear Advertisement (PDF)
Sports Injury Treatment
We understand that accidents can happen while playing sports or during a game. If you experience a dental injury, such as a lost, broken, or chipped tooth, we can provide prompt treatment and help you get back to your favorite activity as quickly as possible. We will also endeavor to minimize your discomfort if you're feeling any pain. Urgent dental needs from trauma should be addressed by an emergency dentist on the same day or as quickly as possible to ensure the best treatment options and long term success. If you are unable to get to our office, we will recommend at-home care options to minimize discomfort and keep treatment options available.
Should an urgent dental need arise, please phone our office anytime. We are committed to our patients and service. Everyday of the year, 24 hours a day and 7 days a week, Scripps Center for Dental Care maintains a lead clinical coordinator and a doctor on call to meet your urgent needs.
Sports and games are more fun when they're played safely. Contact us for more information on sports dentistry, or to schedule a consultation.