Patient Resources
To help make your visit as pleasant and convenient as possible, our experienced dental team has provided the following patient resources that we hope you find useful. We have included the location, hours, and directions to our office, as well as new patient forms that you can view, download, and print in advance of your appointment. If you're from out of town, we can assist you in finding comfortable accommodations and planning your stay in the San Diego area. Our friendly and knowledgeable team will also be happy to recommend local attractions, restaurants, and other activities to further enhance your time with us. It's all part of the Scripps Center for Dental Care commitment to excellence.
The following links will take you to our selection of patient resources. If you have additional questions, or if you would like to schedule a consultation, please contact us today.
Travel and Accommodations
San Diego and La Jolla are bursting with recreational options. With our temperate climate, stunning beaches, manicured golf courses, and variety of hiking trails, the opportunity for outdoor adventure is high. But San Diego County also has a flourishing culinary scene, and it's known as the Craft Beer Capital of America. Prefer strolling through art exhibits? Balboa Park is home to 15 major museums and the world famous San Diego Zoo. Whatever your interests, we can help you find an outlet. Our team can assist you in securing hotel and travel accommodations (car, bike, train, or plane), and we can recommend entertainment options to make your visit unforgettable.
Patient Forms
Please visit the Patient Forms page on our website to complete your forms online.
Location and Hours
Our office is located at:
9850 Genesee Avenue, Suite 620
You can reach us at:
Our hours of operation are:
Monday: 10:00am to 5:30pm
Tuesday-Thursday: 7:30am to 5:00pm
Cancellations:
Life can be chaotic, and we understand sometimes you may have to cancel an appointment. We ask that you provide 48-hours notice in the event you will be unable to attend your appointment.
Map and Directions
From Interstate 5, just South of the 5/805 split, exit Genesee Avenue East.
Turn right at the first signal light at the entrance to Scripps Memorial Hospital, La Jolla. Proceed straight through the campus. We are located in the XIMED Building – 9850 Genesee Avenue, Suite 620.
Valet parking is available at the XIMED building entrance, as well as a parking structure located in back of the XIMED building. You may reach the elevators through the main lobby, or cross the bridge on the 3rd level of the parking structure.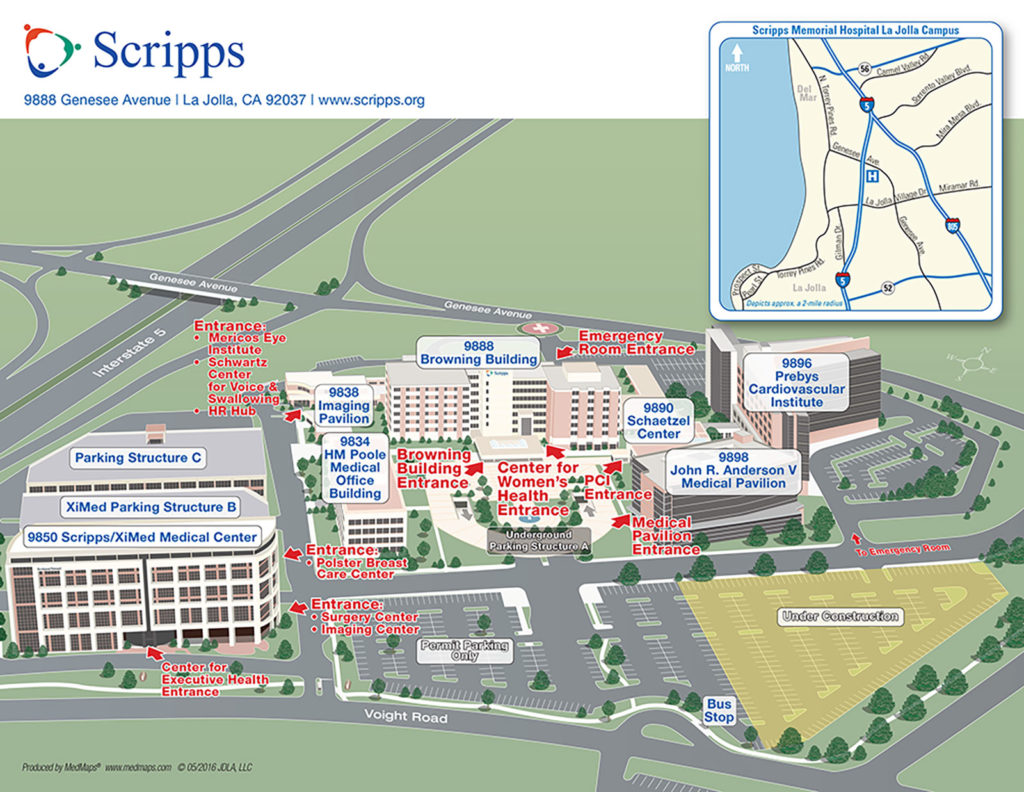 View larger map