Invisalign®
Many of our patients wish to remedy crooked teeth or bite irregularities but don't want to wear traditional braces, which they may feel to be inconvenient or unattractive. We have an extraordinary solution for such patients: orthodontics with Invisalign® invisible braces. With Invisalign®, patients wear a series of clear plastic aligners that gradually move their teeth into the optimal positions quickly, comfortably, and discreetly.
Your Invisalign® Treatment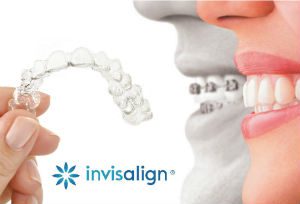 For patients at our practice orthodontic treatment with Invisalign® invisible braces begins with a consultation. When you meet our cosmetic dentists for your initial consultation, they will discuss your treatment goals and give you a full overview of the entire Invisalign® realignment process. Then impressions are made which will be sent to a specialized lab that will manufacture your custom aligners.
Patients wear their Invisalign® aligners for two to four weeks and then move on to the next set of aligners in order to gradually change the positions of their teeth. The aligners are worn day and night but are removable for eating, brushing, and flossing. Most of our patients complete their Invisalign® invisible braces orthodontics program in about a year, and some achieve straight smiles in as little as six months. Of course, treatment time varies with each patient's specific needs, and our doctors can help you establish realistic expectations.
Because Invisalign® aligners are made out of clear plastic, most people don't even notice that our patients are wearing them. Another benefit that patients enjoy with Invisalign® invisible braces is that they do not have to disrupt their lifestyles at all, as they might have to do with traditional metal brackets. If you are interested in Invisalign® invisible braces orthodontics, contact Scripps Center for Dental Care to schedule a consultation.
ClearCorrect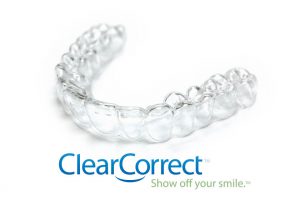 We offer ClearCorrect clear aligners in addition to Invisalign®. These removable devices provide virtually invisible teeth straightening over a period of months using a series of aligner trays. In addition to improving the appearance of the smile, this technique can address functional concerns such as bite misalignment (called malocclusion) and crowded teeth. Optimizing the position of the teeth can make eating and speaking feel more comfortable and improve the effect of brushing and flossing. ClearCorrect is based in America and all the products are designed and manufactured in the United States. As with all orthodontic treatment plans at Scripps Center for Dental Care, ClearCorrect will be customized to suit your anatomic needs and cosmetic goals. Both ClearCorrect and Invisalign® can achieve excellent results, and the right approach for you will be determined during your initial consultation.
A Full Range of Orthodontic Options
While many our patients choose to straighten their smiles with Invisalign® invisible braces, we know that each patient has specific cosmetic and jaw-function goals. To meet these needs, the team at Scripps Center for Dental Care offer a full range of treatment options involving orthodontics, including:
Young patient interceptive treatment
Invisible braces
Lingual braces
Retention services
Bite splint therapy
Pre- and post-surgical orthodontic care
For patients who wish to undergo other cosmetic dentistry procedures as well, we offer sedation dentistry, which allows patients to relax in comfort for the duration of their treatments. Many of our patients who undergo orthodontic treatment also choose to undergo teeth whitening in order to give their newly straightened smiles a dazzling glow.
Learn More
To learn more about any of the orthodontic treatments available at Scripps Center for Dental Care, including Invisalign® and ClearCorrect, please contact our office today. We can answer your questions or help you schedule an appointment with our top orthodontist.