Invisalign®
Many of our patients wish to remedy crooked teeth or bite irregularities but don't want to wear traditional braces, which they may feel to be inconvenient or unattractive. We have an extraordinary solution for such patients: orthodontics with Invisalign invisible braces. If you're interested in enhancing the form and function of your smile, talk to us today about your goals and our top orthodontist can help you determine if Invisalign is right for you.
What Is Invisalign®?
Invisalign is an innovative orthodontic solution that uses no metal wires, brackets, or other such devices. With Invisalign, patients wear a series of clear plastic aligners that gradually move their teeth into the optimal positions quickly, comfortably, and discreetly.
What Concerns Can Invisalign® Treat?
Able to treat many of the same concerns as traditional metal braces, Invisalign is a popular choice for bite alignment for teens and adults bothered by any of the following:
Crowding
Gaps
Asymmetry
Overbite
Underbite
Crossbite
Open bite
We will evaluate your smile and your bite to determine if Invisalign or another method can provide the optimal outcome for you. In many cases, Invisalign can address the same issues as braces; however, not everyone will be an ideal candidate. Your treatment is our top priority, and we will work with you to identify the best course of action for your needs, goals, and lifestyle.
Invisalign® Vs. Braces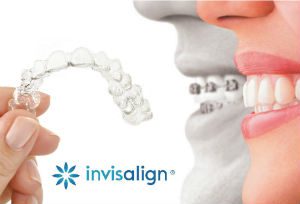 While Invisalign and traditional metal braces are both designed to correct malocclusion (bad bite) and misalignment, they have a number of differences that can make one or the other a better choice for you. Invisalign uses no metal parts, only clear aligner trays that gradually shift the position of your teeth. Invisalign also is removable and inconspicuous, appearing nearly invisible when worn. Both options can address a wide range of orthodontic concerns; however, certain complex treatment plans may be better suited to correction by traditional braces than by Invisalign. Our elite team of dentists and orthodontists will help you determine the best course of action, with your care, comfort, and results upheld as are our highest priorities.
How Invisalign® Works: Your Treatment Process
For patients at our practice orthodontic treatment with Invisalign invisible braces begins with a consultation. When you meet our dentists for your initial consultation, they will discuss your treatment goals and give you a full overview of the entire Invisalign realignment process. Then impressions are made which will be sent to a specialized lab that will manufacture your custom aligners.
Patients wear their Invisalign aligners for two to four weeks and then move on to the next set of aligners in order to gradually change the positions of their teeth. The aligners are worn day and night but are removable for eating, brushing, and flossing. Most of our patients complete their Invisalign invisible braces orthodontics program in about a year, and some achieve straight smiles in as little as six months. Of course, treatment time varies with each patient's specific needs, and our doctors can help you establish realistic expectations.
Because Invisalign aligners are made out of clear plastic, most people don't even notice that our patients are wearing them. Another benefit that patients enjoy with Invisalign invisible braces is that they do not have to disrupt their lifestyles at all, as they might have to do with traditional metal brackets. If you are interested in Invisalign invisible braces orthodontics, contact Scripps Center for Dental Care to schedule a consultation.
What Is Invisalign® Teen?
In addition to traditional Invisalign, we also offer a version designed for the unique needs of adolescents. Invisalign Teen works exactly like original Invisalign; it gently and gradually shifts the teeth into the optimal location using a series of clear aligner trays. Many teens prefer Invisalign for the same reasons adults do: the aligners are clear, removable, easy to take care of, more comfortable than metal braces, and effective. If your adolescent is in need of orthodontic treatment, we can discuss whether Invisalign Teen is the right approach for them at their initial consultation.
How Long Does Invisalign® Take?
For the fastest treatment possible, you must wear the aligners at all times when not eating, drinking, brushing, or flossing. If worn consistently, most patients can complete the treatment in as little as 9 to 15 months. New innovations in the aligners can speed up this estimate, making Invisalign often a far more efficient system than traditional braces. During your initial consultation, we will give an estimate of the expected treatment time and provide advice on how to have the best experience.
How Much Does Invisalign® Cost?
We customize your treatment plan based on the concerns you wish to treat, the complexity of your case, the number of aligners needed to achieve your goals, and other factors unique to you. Generally speaking, the price of Invisalign can range from about $3,500 to around $8,000, and we will go over all of your options and considerations, as well as the price, during your initial consultation. If you have dental insurance that offers a reduced cost for traditional braces, Invisalign is often included in that coverage, although you should check with your provider to confirm. We also accept a range of payment types and offer orthodontic financing options for individuals who wish to pay installments.
ClearCorrect™ Vs. Invisalign®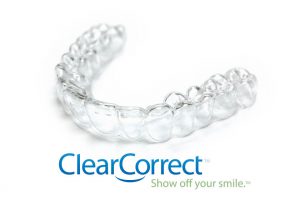 We offer ClearCorrect clear aligners as well as Invisalign. These removable devices provide virtually invisible teeth straightening over a period of months using a series of aligner trays. In addition to improving the appearance of the smile, this technique can address functional concerns such as bite misalignment (called malocclusion) and crowded teeth. Optimizing the position of the teeth can make eating and speaking feel more comfortable and improve the effect of brushing and flossing. ClearCorrect is based in America and all the products are designed and manufactured in the United States.
Invisalign and ClearCorrect work very similarly with only a few differences in the approach to treatment. With ClearCorrect, patients wear each set of aligners for three weeks; Invisalign aligners are worn for approximately two weeks. ClearCorrect can appear more translucent to some people, and may be more resistant to clouding from wear. That said, ClearCorrect treatment can take up to two years, while many patients complete Invisalign treatment in around one year.
As with all orthodontic treatment plans at Scripps Center for Dental Care, ClearCorrect will be customized to suit your anatomic needs and cosmetic goals. Both ClearCorrect and Invisalign can achieve excellent results, and the right approach for you will be determined during your initial consultation.
What Are My Alternatives to Invisalign®?
While many our patients choose to straighten their smiles with Invisalign invisible braces, we know that each patient has specific cosmetic and jaw-function goals. To meet these needs, the team at Scripps Center for Dental Care offer a full range of treatment options involving orthodontics, including:
Young patient interceptive treatment
Invisible braces
Lingual braces
Retention services
Bite splint therapy
Pre- and post-surgical orthodontic care
For patients who wish to undergo other cosmetic dentistry procedures as well, we offer sedation dentistry, which allows patients to relax in comfort for the duration of their treatments. Many of our patients who undergo orthodontic treatment also choose to undergo teeth whitening in order to give their newly straightened smiles a dazzling glow.
To learn more about any of the orthodontic treatments available at Scripps Center for Dental Care, including Invisalign and ClearCorrect, please contact our office today. We can answer your questions or help you schedule an appointment with our top orthodontist.