Periodontist
Erez Nosrati, DMD, MSD, MSc, Diplomate of American Board of Periodontology
MEET DR. NOSRATI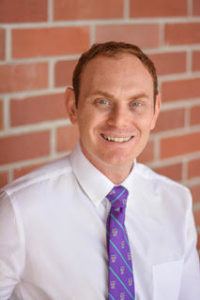 Dr. Erez Nosrati has over 15 years of experience in dentistry, specializing in Periodontics and Oral Implantology with a subspecialty in Oral Pathology. Dr. Nosrati is also a Diplomate of the American Board of Periodontology and certified in Periodontology and Dental Implant Surgery. He is a voting member of The American Academy of Periodontology.
Dr. Nosrati serves as a faculty member and Assistant Professor of Periodontics at Loma Linda University, School of Dentistry, department of periodontics.
While living in Chicago, Dr. Nosrati worked both in private practice and as a clinical faculty member at Midwestern University, College of Dental Medicine, where he founded the department of periodontics. Dr. Nosrati completed his residency at Indiana University School of Dentistry in Indianapolis, IN, where he was the chief resident and class president. He received his Doctor of Dental Medicine (DMD) degree from Hebrew University, Hadassah School of Dental Medicine, and his Master of Science in Cardiac Physiology from Hadassah School of Medicine in Jerusalem.
Dr. Nosrati has served as an associate researcher and consultant to several biotech companies for research involving diabetes, cancer, cardiac diseases, and other serious conditions. Having an extensive medical and research background, Dr. Nosrati, in cooperation with Riley Children's Hospital and Indiana University School of Dentistry and Medicine, conducted advanced research regarding the connection between heart diseases and periodontal health in children with congenital cardiac diseases. The results of that research earned him a Master of Science degree, and he presented at the American Association of Periodontists meeting in 2012 in Los Angeles, followed by a published article in the official journal of the American Academy of Pediatric Dentistry.
Dr. Nosrati is passionate about continued medical education, lecturing nationally and internationally on periodontology, implantology, cardiac physiology, and the cardio-systemic connection.
Dr. Nosrati is proficient in all aspects of oral implantology, surgical periodontics, and non-surgical periodontics, including dental implants, tissue grafting for gum recession, pocket reduction, bone augmentation, crown lengthening for short teeth, treatment of a gummy smile, biopsies, and IV dental sedation.
When not at the office, Dr. Nosrati loves spending time with his wife, Irene, and his two kids, Ben and Naomi. Together they enjoy outdoor activities, traveling, and discovering new places. Dr. Nosrati resides in La Jolla and enjoys biking, going to the gym, playing basketball, and training as a black belt in Karate.
Education & Training
Master of Science in Cardiac Physiology — Hadassah School of Medicine
Doctor of Dental Medicine — Hebrew University Hadassah School of Dental Medicine
Residency — Indiana University School of Dentistry, Indianapolis, IN
Professional Memberships
Diplomate of the American Board of Periodontology
American Academy of Periodontology — Voting Member
Loma Linda University School of Dentistry — Faculty Member and Assistant Professor of Periodontics