Cosmetic Dentist
Nicholas C. Marongiu, DDS, AAACD
MEET DR. MARONGIU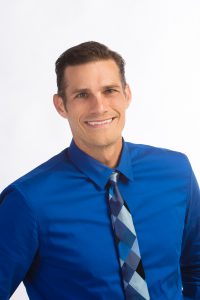 Dr. Marongiu, "Dr. Nick", graduated from the University of California, San Diego, with a Bachelor of Science in Animal Physiology and Neuroscience. He earned his Doctorate of Dental Surgery degree from Loma Linda University School of Dentistry where he served as President of the Dental Student Association and Chair of the California Dental Association Student Delegation. He graduated with Honors in Implant Dentistry and was recipient of several awards, most notably, Clinical Excellence Award, Student Excellence Award, Prosthodontic Scholar Award, and Excellence in Cosmetic Dentistry Award.
Following graduation, he completed a General Practice Residency at the West Los Angeles Wadsworth Veterans Administration Hospital and postgraduate training at University of California, Los Angeles, School of Dentistry. During his residency he provided comprehensive dental care to Veterans with emphasis in oral and maxillofacial surgery, implant dentistry and prosthodontics while completing licensure for oral conscious and intravenous conscious sedation to provide anxiety free dentistry to his patients.
Dr. Nick maintains hospital privileges at Scripps Memorial hospital and is adjunct faculty at the University of California San Diego School of Medicine. He is committed to education and having been involved with years of research during college and graduate school, Dr Nick continues to publish articles in national and international journals every year. He currently serves on several review boards dedicated to providing peer reviewed research and education to the profession and public. He has committed his professional career to achieving the best education available to better serve his patients and has recently achieved the title of 'Accredited' by the American Board of Cosmetic Dentistry, becoming the one of less than 500 worldwide dentists to achieve this certification.


Outside of working with patients at Scripps Center for Dental Care, Dr. Nick is very involved with dental professional associations, where he volunteers his time as a leader to implement policy changes to better serve the profession and public with exceptional oral healthcare. He currently serves an elected position to the Board of Directors for the American Academy of Cosmetic Dentistry, is a Delegate from the 13th District to the American Dental Association, a Delegate from the San Diego County Dental Society to the California Dental Association, and serves as a Manager to the California Dental Association's Board of Managers.
Dr. Nick is additionally very involved with community service, loaning his expertise and training to Give Back a Smile, Loloma Foundation, Missions of Mercy, Remote Area Medical, USNS Mercy, Flying Docs, Project Hope and several other organizations that provide dental care to underserved communities throughout the world.
Dr Nick is a member of the American Academy of Cosmetic Dentistry, Orange County Academy of Cosmetic Dentistry, Los Angeles Academy of Cosmetic Dentistry, American Dental Association, California Dental Association, San Diego County Dental Society, and Academy of General Dentistry.
Why is it important to choose an AACD Accredited dentist?
The American Academy of Cosmetic Dentistry is a prestigious organization devoted to maintaining and elevating the standards of dental care. In addition to advancing excellence in dentistry, the AACD promotes the highest levels of ethical standards, unparalleled patient treatment, and continuing education. As an Accredited Member, Dr. Nick has displayed his commitment to this philosophy as well as demonstrated his clinical skill. Individuals who seek a modern, patient- and safety-focused approach to oral health are often best served by choosing an AACD Accredited Member for their general, cosmetic, and restorative procedures.
He grew up in northern California and currently resides in San Diego's La Jolla. Dr. Nick believes and lives the concept of healthy mind and body, balancing his professional life with a personal life of family, fitness and outdoor activities including, but not limited to hiking, camping, surfing, scuba diving, swimming, biking, and running.

Dr. Nick ( Dr. Nicholas Marongiu,DDS, AAACD) has been my Dentist for more than a decade when I first came to Scripps Center for Dental Care I was diagnosed with Peridontal disease. I had always been told by my dentists that I had exceptionally good teeth (two fillings my entire life). How did I have an advanced gum disease when my dental check ups were always good – no cavities ? I learned the hard way that your dental health can be significantly jeopardized even with regular dental check-ups. Dr. Nick is the best (I recommend only going to a highly rated dentist) far above even the top tier of his profession when he is with you he makes you feel like you are a very important person always answering all your questions and concerns never making you feel they are unimportant or wasting his time . Rarely can you find a gifted professional that is also kind and genuinely caring. I highly recommend Dr. Nick .

Deana Lewis

July 10, 2018

12345
How to Find the Best Cosmetic Dentist
One of the most important things you can do to ensure you obtain excellent dental care is to choose the best possible dentist for your needs. With that in mind, it can be somewhat challenging to know whom to choose among the many cosmetic dentists offering services in our area if you're not quite sure what to look for.
From experience and chairside manner to a track record of successful results, there are a number of factors that you should consider when reviewing your options. Here are few tips that can help you find the best cosmetic dentist:
Research the dentist's background, education, training, and credentials. A cosmetic dentist's professional history should be easily found on his or her website and offer viewers comprehensive biographical information. The dentist should be experienced with procedures that you are considering and should have the credentials to prove it. It's often helpful to see where the dentist has been educated, the types of training they have received, their affiliations and memberships with professional dental organizations, and any honors and recognitions they have been given over the years. If this information is not available on the website, you may want to contact the practice directly for more details.
Find out if the dentist pursues continuing education. It is very important for dentists to stay abreast of the latest treatment techniques and technologies, particularly in the field of cosmetic dentistry. A dentist who regularly attends conferences, classes, training sessions, and continuing education workshops is typically one who has placed a high priority on maintaining his or her ability to provide patients with the absolute best standards of care.
View before-and-after photos. Many websites display dental treatment before-and-after photos of specific procedures performed on the practice's own patients. This can be a great way to see the potential results of certain treatments and to evaluate the skills of a particular dentist. If before-and-after photos are not available on the website, a dentist should provide them at the office.
Read patient reviews and testimonials. In the internet age, it's easier than ever to find out what others think about the treatment they received at a dentist's office. Take a look at testimonials and dentist reviews to get an idea of what previous patients are saying.
Ask questions. Never hesitate to have any and all questions or concerns addressed at any time during the research or consultation process. Common questions include inquiries about the dentist's experience and education, the range of procedures and treatments for which they are skilled, and which options they feel will best meet your needs and why. Remember: it is important that you feel comfortable and confident with your cosmetic dentist. You should be certain that they are answering you honestly and thoroughly, and that they deserve your trust.
Good cosmetic dentists pay meticulous attention to detail, are able to communicate in a clear and effective manner, and listen closely when you are talking about your needs and goals. They also comprehensively explain procedures and their potential benefits with you during the consultation, and recommend alternative options when the situation calls for it. A good cosmetic dentist should also make you feel at ease. If you suffer from "dental anxiety," your dentist should explain all the means that the practice employs to make patients comfortable, and they should discuss any available sedation dentistry options that can help you relax during treatment.
As noted above, Dr. Nick is an impeccably-credentialed cosmetic dentist who is committed to providing patients with the best care, the best results, and the best experience possible. If you would like to learn more about Dr. Nick or one of the other skilled dentists at our practice, please don't hesitate to contact Scripps Center for Dental Care today.