Dental Implants
For patients who are missing one or more of their natural teeth, dental implants may offer the ideal solution. Simply stated, dental implants can be the most reliable, secure, and aesthetically pleasing method of replacing missing teeth currently available. Dental implants are artificial tooth roots made of medical grade titanium (same titanium used in orthopedic surgery to fix bones and joint) that are integrated in a patient's jaw to support natural-looking replacement teeth. At Scripps Center for Dental Care, our implants are all placed by board certified specialists in periodontics and oral and maxillofacial surgery and in conjunction with the restoring dentist, making it truly a team approach to achieving our patients desired outcomes. Our implant surgeons are extensively trained in oral and maxillofacial surgery, the placement and maintenance of dental implants, and anesthesiology, so our patients can feel confident and relaxed at every stage of their treatment.
If you are interested in learning more about dental implants, contact Scripps Center for Dental Care to schedule an informational consultation.
The Dental Implant Placement Process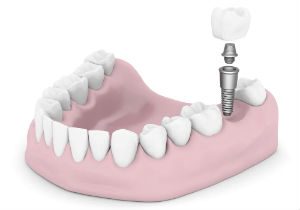 When patients come to our office for dental implants, the first step in the process is a consultation. During your meeting, we will often times acquired a computed tomography 3-dimensional image of your jaw which will help determine whether you are a suitable candidate for implant dentistry and help you set goals for your treatment. This scan will allow our surgeons and restoring dentists to virtually place an implant and assess the surgical and restorative parameters without beginning treatment or getting numb.
Once it has been determined that dental implants are a good option for you, we will prepare your mouth to receive the dental implant. The surgical placement of the implant itself is much less traumatic than having a tooth removed and most of our patients do not notice any swelling or discomfort. After the implant is placed, it takes roughly three to six months for your bone to fuse with the titanium, creating a stable and dependable foundation to build your custom-crafted replacement teeth.
During your final visit with implant dentistry specialist, your beautiful, custom-crafted prosthetic teeth are attached to the dental implants. Our patients who choose dental implants to replace missing teeth are often surprised by their renewed chewing and speaking abilities. They often discover that the restorations are so natural-looking that others can't tell they have had work done!
All on 4™ or Teeth in a Day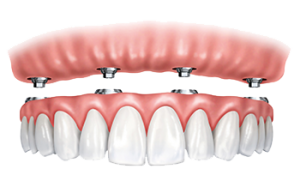 Innovations in dental implant technology make it possible to replace full sets of missing teeth or non-restorable teeth in one procedure. This eliminates the need to return for second or third treatment sessions, as is the case in conventional implantation. The All on 4™ system is completely personalized to optimize the fit, color, shape, and size of your restorations. We use a 3D scanner to precisely capture the details of your oral structures and your bite. Our multispecialty dental team will then build the treatment options virtually and will be able to simulate the surgery and expected treatment outcomes before every beginning treatment. Once the ideal treatment plan has been agreed upon, the surgery will be completed with use of computed tomography guides, allowing for exact placement of the implants based on your anatomic needs. Finally, a set of custom-designed artificial teeth will be affixed to the implants. In most cases, between four and six implants will be necessary to replace an entire upper or lower jaw, and we will discuss the unique elements of your treatment plan during your initial consultation. Your well-being is our primary concern. All on 4™ is designed to provide enhanced patient comfort, and we will strive to make this process as pleasant as possible.
Implant Dentistry and Your Comfort
At Scripps Center for Dental Care, we understand that dental anxiety prevents many patients from seeking the treatments they need to achieve beautiful and healthy smiles. To help our patients relax during their procedures, we offer a number of safe sedation options, including Nitrous Oxide, Oral Conscious Sedation, Intravenous Sedation, and General Anesthesia. Sedation dentistry allows even the most complex procedures, including dental implant placement, to be completed more quickly and easily.
Learn More about Dental Implants
If you are interested in learning more about dental implants, please contact our practice today. We would be pleased to answer any questions you might have and schedule an appointment for you.