Dental Implants
For patients who are missing one or more of their natural teeth, dental implants may offer the ideal solution. Simply stated, dental implants can be the most reliable, secure, and aesthetically pleasing method of replacing missing teeth. At Scripps Center for Dental Care, our implants are all placed by board-certified specialists in periodontics and oral and maxillofacial surgery. Our specialists work in conjunction with the restoring dentist to place dental implants, truly employing a team approach to achieve our patients' desired outcomes. Our implant surgeons are extensively trained in oral and maxillofacial surgery, the placement and maintenance of dental implants, and anesthesiology, allowing our patients to feel confident and relaxed at every stage of their treatment.
What Are Dental Implants?
Dental implants are artificial tooth roots made of medical grade titanium (same titanium used in orthopedic surgery to fix bones and joint) that are integrated in a patient's jaw to support natural-looking replacement teeth. They are considered to be the gold standard approach to replacing missing teeth, whether one, several, or all of the teeth are missing.
What Are the Benefits of Dental Implants?
Offering a multitude of advantages, dental implants are the most commonly recommended solution for missing teeth. Dental implants are strong, durable, and aesthetically appealing restorations, and these innovative appliances are preferred among dentists and patients alike. Some of the most common dental implant benefits include:

Permanent replacement for missing or severely damaged teeth
Improved ability to chew, bite, and speak comfortably and properly
Easy maintenance, simply brush and floss as usual, and attend routine checkups
Natural-looking function and form
No slipping, friction, or movement of the implant-retained full or partial denture along the gumline
Types of Dental Implants
We offer a comprehensive range of implant options to suit your needs. Whether you're missing a single tooth, several teeth in a quadrant, or a full arch, we can help you determine which treatment can provide the best possible results.
Single Tooth Implants
Individual dental implants can be used to replace a single missing tooth, creating a natural-looking replacement that feels and functions just like the real thing. Each implant will be placed in the same space as the missing or extracted tooth. An implant restoration consists of three components: the implant, the connecting abutment, and the dental crown placed on top (acting as the tooth body). Placement of all three pieces may not occur in the same appointment, as certain components should only be placed after osseointegration (fusing) of the implant. After the implant is fully integrated with the jawbone, it is then topped with a dental crown that matches the shape, color, and size of your neighboring teeth for a beautiful restoration.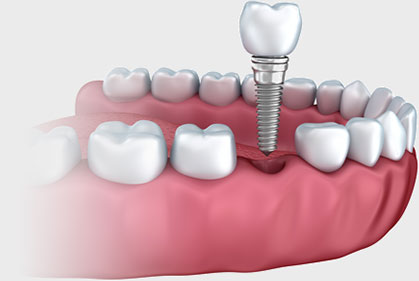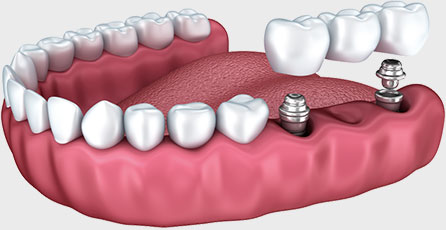 Multiple Teeth Dental Implants
If you're missing several teeth, you have a number of options. You can use individual dental implants to replace each missing tooth, or you can use an implant bridge to restore the smile when several teeth are missing in a row. In this case, two to six implants can be utilized to secure a single restoration (for instance, a bridge, partial denture, or a full arch) that covers the entire gap.
Implant-Supported Dentures
Also called anchor-supported dentures, implant dentures are often used to replace traditional removable dentures. Patients who are missing all of their teeth on the upper arch, lower arch, or both can restore their smiles with a secure and comfortable restoration that provides the function and beauty they want. Implant dentures use four to six implants to hold a single restoration (per arch) in place, minimizing the slipping and mess of traditional dentures.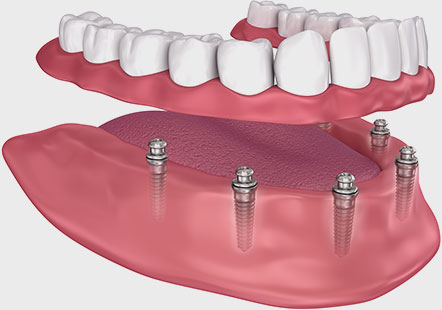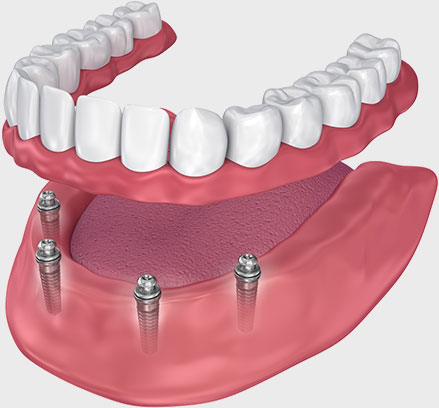 All-on-4™ Teeth in a Day
Innovations in dental implant technology make it possible to replace full sets of missing teeth or non-restorable teeth in one procedure. This eliminates the need to return for second or third treatment sessions, as is the case in conventional implantation. The All-on-4 system is completely personalized to optimize the fit, color, shape, and size of your restorations. We use a 3D scanner to precisely capture the details of your oral structures and your bite. Our multispecialty dental team will then build the treatment options virtually and will be able to simulate the surgery and expected treatment outcomes before every beginning treatment. Once the ideal treatment plan has been agreed upon, the surgery will be completed with use of computed tomography guides, allowing for exact placement of the implants based on your anatomic needs. Finally, a set of custom-designed artificial teeth will be affixed to the implants. In most cases, between four and six implants will be necessary to replace an entire upper or lower jaw, and we will discuss the unique elements of your treatment plan during your initial consultation. Your well-being is our primary concern. All-on-4 is designed to provide enhanced patient comfort, and we will strive to make this process as pleasant as possible.
Immediate Load "Same Day" Implants
While the implant process is usually completed in multiple stages, our practice offers the option of same day (immediate load) implants to shorten the "time to teeth" and minimize the delay involved in securing a restoration to the implant. This technique allows placement of a restoration within 48 hours of implant surgery, whereas other approaches require a healing period of several months before attaching a prosthesis. Immediate load implants include the advantages of a single surgical procedure and the ability to restore the tooth faster than the typical length of treatment. The best candidates for immediate load implants include patients with the requisite bone density to complete the procedure in one visit, among other determining factors.
How Is the Dental Implant Procedure Performed?
When patients come to our office for dental implants, the first step in the process is a consultation. During your meeting, we will often acquire a computed tomography three-dimensional image of your jaw, which will help determine whether you are a suitable candidate for implant dentistry and help you set goals for your treatment. This scan will allow our surgeons and restoring dentists to virtually place an implant and assess the surgical and restorative parameters without beginning treatment or getting numb.
Once it has been determined that dental implants are a good option for you, we will prepare your mouth to receive the dental implant. The surgical placement of the implant itself is much less traumatic than having a tooth removed and most of our patients do not notice any swelling or discomfort. After the implant is placed, it takes roughly three to six months for your bone to fuse with the titanium, creating a stable and dependable foundation to build your custom-crafted replacement teeth.

During your final visit with implant dentistry specialist, your beautiful, custom-crafted prosthetic teeth are attached to the dental implants. Our patients who choose dental implants to replace missing teeth are often surprised by their renewed chewing and speaking abilities. They often discover that the restorations are so natural-looking that others can't tell they have had work done!
Implant Dentistry and Your Comfort
At Scripps Center for Dental Care, we understand that dental anxiety prevents many patients from seeking the treatments they need to achieve beautiful and healthy smiles. To help our patients relax during their procedures, we offer a number of safe sedation options, including Nitrous Oxide, Oral Conscious Sedation, Intravenous Sedation, and General Anesthesia. Sedation dentistry allows even the most complex procedures, including dental implant placement, to be completed more quickly and easily.
Everything went as scheduled today with the addition of a crown to my implanted metal stud. It feels great! Another professional procedure done with precision as on many other occasions during the last 18 years.

EDWARD G Haderer

April 25, 2017

12345
How Much Do Dental Implants Cost?
The price of dental implants can cost approximately $5,000 per implant. The complexity of your treatment plan, number of implants needed, type of restoration, and other factors will play a role in the total cost of your procedure. We want you to be well-informed when making medical decisions, and our team will review the full cost of your program with you at the initial consultation. We can also help you find dental financing, if interested, and we accept a wide range of dental insurances and payment options. If you have questions, please don't hesitate to ask. We believe everyone should enjoy a healthy and beautiful smile.
How Long Do Dental Implants Last?
With skilled placement and proper maintenance, dental implants should last for the life of your smile. On the other hand, poorly placed implants, poor oral hygiene, and accidents or injuries could lead to problems that could require correction or replacement. The best way to ensure your implants last as long as possible is to choose an extensively trained and experienced dental team to plan your treatment, place the posts, and create the restorations. The rest is up to you, and you can preserve the beauty and function of your implants by brushing twice daily, flossing once daily, and visiting your dentist for routine care as recommended. It is important to note that the crown topping the implant may wear at a faster rate than the implant, which is not uncommon for dental crowns in general. In this case, the restoration can simply be replaced with a new, custom-crafted dental crown.
Are Dental Implants Safe?
Dental implants are considered a safe, effective, and long-lasting replacement for missing teeth by the American Dental Association (ADA) and the American Academy of Implant Dentistry (AAID). This predication is backed by decades of research and clinical results that support the predictability of dental implants; however, like all dental procedures, selecting a qualified team to place your implants is crucial to minimizing the risks of treatment.
Before undergoing treatment, our dentists will ask you about your medical history and review the current state of your bone volume to help ensure you are a good candidate for dental implants. While factors like extensive bone loss and smoking can lead to implant failure, dental implants boast a success rate of up to 98 percent for ideal candidates. For this reason, the likelihood of complications is often much lower when patients are treated by an experienced dentist who can determine whether dental implants or another tooth replacement solution, such as dental bridges, are the best option for your needs. At Scripps Center for Dental Care, our core-trained team of implant dentists, oral surgeons, and periodontists have achieved beautiful results with the dental implant procedure for countless patients in San Diego and beyond.
Are There Alternatives to Dental Implants?
If dental implants are not right for you, other options may restore your smile with excellent results. Patients who are not candidates for dental implants, or who do not wish to have implants, often choose fixed bridges or traditional removable dentures. It's important to understand that traditional dentures, while a popular and affordable choice, do not provide the same fit and longevity as dental implants. They also will need replacing every five to 10 years due to jawbone structure changes and wear and tear, so costs can add up over time. Implant dentures, on the other hand, can provide a sturdy, comfortable alternative at a lower price point than a full set of dental implants. We will go over all of your options so you can make the best decision for your needs and lifestyle. Our goal is to ensure you are happy with your smile and that you understand and have access to the best possible care.
How Do I Choose the Right Implant Dentist?
Identifying the right dentist for your dental implant procedure begins with reviewing a potential dentist's educational and professional background. Dental implants typically involve a team of professionals: a dentist, an oral surgeon, and a ceramicist (for the restorations). The leading dentist will provide a treatment plan, including a surgical guide of where to place the implants, based on a thorough evaluation of your oral structures. The best way to determine if a dentist is right for you is to schedule a consultation and ask them questions. During this meeting you can get a feel for the doctor's demeanor, practice philosophy, and plan for your procedure. We recommend asking the dentist about their training, what options are available to you, and how much you can expect your program to cost. You want to feel comfortable with your dentist and confident in their assessment of your needs and how to address them.
Scripps Center for Dental Care includes an in-house, multispecialty dental team that works together to coordinate placement of your implants, helping ensure a successful long-term result. With the respective expertise of our restorative dentist, periodontist, and board-certified oral surgeon who performs placement of the implant, our team will closely monitor the implant process from initial development of your treatment plan to the final step of securing your restoration. This gives our patients the confidence of knowing they are receiving the highest standard of safety and care as they replace their missing teeth.
Additional Dental Implants FAQs
How do dental implants work?
Dental implants are designed to function like natural tooth roots—they consist of titanium posts that are embedded in the gumline, stimulating the jawbone just as a normal tooth would. This distinguishes implants from other tooth replacements that replicate the appearance and biting function of a lost tooth, but that sit atop the gumline and fail to prevent further bone recession. 
Are dental implants covered by dental insurance?
As implants emerge as a more advantageous long-term solution for missing teeth when compared to other restorations, some insurance providers have begun to offer coverage for the procedure. No two patients are the same, so we encourage you to check with your insurance provider to learn whether full or partial coverage is applicable under your policy. We also accept financing plans from CareCredit® and Lending Club® for qualified patients who would like to better manage their out-of-pocket costs. 
How do dental implants differ from dental crowns?
A dental implant is intended to completely replace a missing tooth, while a crown is utilized to support weak, damaged, or decayed enamel. Unlike dental crowns which are used to prevent the further breakdown of a tooth, implants are only utilized when a tooth is already lost or extracted.
Can I get a mouth full of dental implants?
Replacing each individual tooth with a dental implant is possible, but restoring a large section of the mouth with implants alone often requires significant bone support that is not always available—especially when replacing teeth in the upper jaw, where the maxillary sinus cavity must be avoided and the bone is typically softer. For this reason, our dentists prefer to utilize a few implants to anchor a partial denture, a full denture, or a dental bridge.
What are mini dental implants?
Mini dental implants work exactly the same as standard implants, except they are smaller in diameter than the full-sized version. These miniature implants can often be beneficial when there is less space in the jaw to support an implant restoration.
Learn More About Dental Implants
If you are interested in learning more about dental implants, please contact our practice today. We would be pleased to answer any questions you might have and schedule an appointment for you.