Porcelain Dental Crowns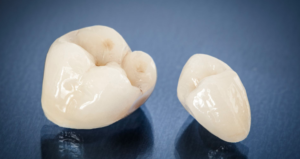 If one or more of your teeth has been damaged or otherwise weakened, dental crowns may offer a simple and effective treatment to restore a healthy tooth structure. Versatile in usage, a dental crown is commonly placed to strengthen a tooth that has been affected by decay, or to anchor a dental bridge while replacing a missing tooth. These restorations can feel like a natural part of your mouth and—unlike the metal dental crowns traditionally utilized in the past—they often appear indistinguishably among your surrounding teeth. Thanks to the resemblance of dental porcelain to natural tooth enamel, the crowns from our cosmetic dentist can offer aesthetic benefits in addition to improving biting function.
What are Dental Crowns?
A dental crown is a custom-fitted restoration placed on top of a compromised tooth to strengthen it and protect the enamel from further damage. A crown is frequently utilized when tooth decay is too extensive to be corrected with a tooth-colored filling, but not severe enough to warrant an extraction or root canal. Crowns can also be used for a number of other reasons, some of which are listed below. While the different types of dental crowns can vary, Scripps Center for Dental Care places all-porcelain crowns due to their durability and aesthetic similarity to natural teeth. This not only eliminates the cosmetic disadvantages of metal crowns, but can also help avoid other issues associated with metallic material, such as potential allergy concerns and sensitivity to temperature changes.
What are the Benefits of Dental Crowns?
Our porcelain ceramic crowns offer decayed or weakened teeth the strength, beauty, and support necessary to keep the tooth from worsening to the point of extraction. Common uses for a porcelain crown include:
To restore a tooth that has deteriorated from decay or multiple cavities
To top a dental implant for a complete tooth replacement
To strengthen and protect a tooth after a root canal
To secure a dental bridge
Porcelain crowns can also improve your ability to bite in addition to ensuring your treated tooth remains undetectable within your smile. The results often outlast the outcomes achieved with other restorations, such as dental bonding, for support that endures well into the future.
How is the Dental Crown Procedure Performed?
Our porcelain crowns are custom-designed to fit perfectly over the affected tooth using digital dental scans of your teeth and mouth—this is an upgrade from traditional impressions that would often require messy pastes or putties. The scans are then used to create an accurate, high-quality restoration tailored to fit inside your mouth. A minimal amount of enamel is then removed before the crown is bonded to help achieve a natural, comfortable fit. After your crown is placed, it generally requires no other maintenance besides the daily brushing and flossing necessary to keep your natural teeth clean.
How Long Do Dental Crowns Last?
A porcelain crown can be very long-lasting, with many crowns remaining in good condition even after five to seven years. In general, the best way to help ensure your crown endures for as long as possible is to take good care of your teeth. Decay, plaque, and poor oral hygiene typically affect restorations in much of the same way as your teeth and gums—without the proper maintenance, the longevity of your crown can be reduced, just like a natural tooth. For this reason, routine oral hygiene practices like brushing, flossing, and keeping up with your semi-annual dental appointments are key to maximizing the lifespan of your crown(s).
How Much Do Dental Crowns Cost?
The cost of an all-porcelain dental crown typically costs between $800 to $1,500 per tooth or more depending on your unique treatment plan. The price often depends on the type of crown placed, the location of the treated tooth, and how the crown was manufactured (in a dental lab or with an in-office milling machine). We cannot accurately determine the estimated cost of your dental crown without assessing your needs, but rest assured that our office will be able to provide you with a personalized quote after you visit our practice for an initial consultation. At Scripps, we accept dental financing plans from CareCredit® and Lending Club® to make it easier for qualified patients to receive treatment while alleviating any budgetary concerns. If you have any questions regarding dental crowns or the cost of our restorations, please don't hesitate to call (858) 535-8300 to speak with a member of our team.
Our dental team can fabricate an optimal restoration to repair your teeth and restore a healthier smile. Please contact Scripps Center for Dental Care today to schedule a personal or virtual consultation with one of our dentists.