Implant Dentures
Traditional removable dentures are one of the most popular ways to replace several or all missing teeth; however, this technique can have some drawbacks for patients. Many individuals complain that traditional dentures do not fit snugly, causing discomfort. They have restrictions on what can be eaten safely. Furthermore, they require significant maintenance to keep clean. Implant dentures offer an alternative option that provide many of the benefits of a full set of dental implants, often at a lower cost. Our experienced dentists can help you determine if implant dentures are right for you.
What Are Implant Dentures?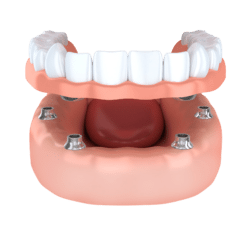 Implant dentures, also known as implant-supported or implant-anchored dentures, are an innovative dental restoration that uses dental implants and a denture appliance to replace missing teeth on the upper or lower arch. Implant dentures use fewer implants than a full set, typically reducing the cost while providing many of the same benefits as using one dental implant per missing tooth.
What Are the Benefits of Implant Dentures?
In addition to offering a more affordable option for tooth replacement, implant dentures can:
Provide a more comfortable fit
Help maintain jawbone density
Allow for easier eating of a wider variety of foods
Require minimal upkeep
Offer long-lasting results
What Are My Implant Denture Options?
Implant dentures come in several options, including solutions for replacing a single quadrant, an arch, or both arches. Some of the different methods are detailed below.
All-on-4™
All-on-4 is also known as "Teeth in a Day." This approach uses four dental implants to replace a full arch—the upper or lower—and hold the appliance firmly and comfortably in place. Not everyone is a candidate for this technique, and we will evaluate your jawbone density and oral structures to determine if it's right for you.
Learn More
All-on-6
All-on-6 works exactly like All-on-4, except in this case six dental implants are used. In some cases, patients may require four dental implants for one arch and six for another, or they may need six on each. If you do not have enough jawbone density for All-on-4™, you may still be a candidate for All-on-6.
Full Mouth Restoration
If you are missing all of your teeth and are looking to restore your smile, full mouth restoration may be the best approach. In this customizable treatment, you and our team can determine which procedures will optimize your outcome. It may be that a full set of dental implants provides the solution, or it may mean a combination of implant dentures are recommended. During your initial consultation, we will review the available options and work together with you to find the ideal program for your needs, goals, and lifestyle.
How Is the Implant Dentures Procedure Performed?
Our extensively trained team is dedicated to providing exceptional care from start to finish, and your procedure will begin with detailed planning, including a consultation with our oral surgeon and with our implantologist. All of our dental professionals are located on-site, so you can expect every stage of treatment to happen at one convenient location and to be performed by some of the most experienced and skilled specialists in the state.
The implant dentures are comprised of a titanium post and a denture appliance. The posts will be placed through the gumline and into the bone in targeted positions chosen for their likelihood of success. Once the posts become integrated with the bone—a healing process that can take several months—we will affix the final denture appliance. While the posts are healing you will wear a temporary denture, so you will never be without your smile.
How Much Do Implant Dentures Cost?
The price of implant dentures can range considerably based on your needs. The typical cost of implant-supported full arch hybrid dentures at our practice is around $27,000 to $35,000 per arch, depending on the number of implants and your clinical situation. This estimate includes a fixed transitional (temporary) healing denture, final fixed denture, and all parts, lab fees, and surgical procedures. It does not include general anesthesia services.
Dental implants are considered the gold standard approach to teeth replacement, as they provide a wide range of benefits and can last many years. The results are designed to be exceptionally natural-looking, comfortable, and easy to wear. Generally speaking, implant dentures can cost less than a full set of dental implants. We will review the anticipated total cost with you during your initial appointment, and if interested, we can go over your dental financing options. We will also answer any questions you may have and address any concerns.
Ready to rebuild your smile? Talk to us today to learn more and to schedule a consultation with our experienced dentists.