Implant Dentures
Traditional removable dentures are one of the most popular ways to replace several or all missing teeth; however, this technique can have some drawbacks for patients. Many individuals complain that traditional dentures do not fit snugly, causing discomfort. They have restrictions on what can be eaten safely. Furthermore, they require significant maintenance to keep clean. Implant dentures offer an alternative option that provide many of the benefits of a full set of dental implants, often at a lower cost. Our experienced dental team can help you determine if implant dentures are right for you.
WHAT ARE IMPLANT DENTURES?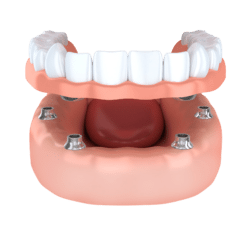 Implant dentures, also known as implant-supported or implant-anchored dentures, are an innovative dental restoration that uses dental implants and a denture appliance to replace missing teeth on the upper or lower arch. Implant dentures use fewer implants than a full set, typically reducing the cost while providing many of the same benefits as using one dental implant per missing tooth.
WHAT ARE THE BENEFITS OF IMPLANT DENTURES?
In addition to offering a more affordable option for tooth replacement, implant dentures can:
Provide a more comfortable fit
Help maintain jawbone density
Allow patients to eat a wider variety of foods
Require minimal upkeep
Offer long-lasting results
Unlike dentures that simply sit on top of the gums, secured dentures utilize dental implants that function like tooth roots and retain the ability to revitalize and strengthen the jawbone. This can prevent bone resorption caused by a lack of bone stimulation, helping patients avoid the collapse of the lower-third of their face.
Who is a Candidate For Implant Dentures?
Implant dentures can serve as optimal teeth replacements for patients who do not have enough jawbone density to restore their dental arches with individual implants. They can also be ideal for individuals who are dissatisfied with the limitations of adhered dentures. In general, good candidates for implant-supported dentures:
Seek a long-lasting restoration to replace an entire row of missing teeth
Do not mind undergoing implant surgery
Have enough bone volume to support an anchored denture
Are willing to quit smoking before and after their oral procedure
Our team of dental specialists will work together to examine the state of your teeth, review your medical history, and determine the extent of bone loss experienced (if any). We will ascertain whether implant dentures or another restorative treatment option is the best solution for your needs.
WHAT ARE MY IMPLANT DENTURE OPTIONS?
Implant dentures come in several options, including solutions for replacing a single quadrant, an arch, or both arches. Some of the different methods are detailed below.
ALL-ON-4™
All-on-4 is also known as "Teeth in a Day." This approach uses four dental implants to replace a full arch—the upper or lower—and hold the appliance firmly and comfortably in place. Not everyone is a candidate for All-on-4, and we will evaluate your jawbone density and oral structures to determine if it's right for you.
Learn More
ALL-ON-6
All-on-6 works exactly like All-on-4, except in this case six dental implants are used. In some cases, patients may require four dental implants for one arch and six for another, or they may need six on each. If you do not have enough jawbone density for All-on-4™, you may still be a candidate for All-on-6.
FULL MOUTH RESTORATION
If you are missing all of your teeth and are looking to restore your smile, full mouth restoration may be the best approach. In this customizable treatment, you and our team can determine which procedures will optimize your outcome. It may be that a full set of dental implants provides the solution, or it may mean a combination of implant dentures are recommended. During your initial consultation, we will review the available options and work together with you to find the ideal program for your needs, goals, and lifestyle.
HOW IS THE IMPLANT DENTURES PROCEDURE PERFORMED?
Our extensively trained team is dedicated to providing exceptional care from start to finish, and your procedure will begin with detailed planning, including a consultation with our oral surgeon and with our implantologist. All of our dental professionals are located on-site, so you can expect every stage of treatment to happen at one convenient location and to be performed by some of the most experienced and skilled specialists in the state.
The implant dentures are comprised of a titanium post and a denture appliance. The posts will be placed through the gumline and into the bone in targeted positions chosen for their likelihood of success. Once the posts become integrated with the bone—a healing process that can take several months—we will affix the final denture appliance. While the posts are healing you will wear a temporary denture, so you will never be without your smile.
How Long Do Implant-Supported Dentures Last?
Implant dentures are placed to help restore your teeth for years, if not decades, into the future. The lifespan of your dental implants is often akin to the longevity of your natural teeth, meaning they should remain in good condition as long as you practice the good oral hygiene necessary to maintain the health of your teeth and gums. Daily brushing and flossing, as well as semi-annual professional cleanings and examinations, are key to achieving a long-lasting result. Furthermore, factors like smoking, widespread decay, and teeth clenching or grinding can accelerate the deterioration of your implant dentures. If you play sports or unintentionally grind/clench your teeth while asleep, our dentists can design a custom-fitted mouthguard or night guard to help protect your implant dentures from damage.
HOW MUCH DO IMPLANT DENTURES COST?
The price of implant dentures can range considerably based on your needs. The typical cost of implant-supported full arch hybrid dentures at our practice is around $27,000 to $35,000 per arch, depending on the number of implants and your clinical situation. This estimate includes a fixed transitional (temporary) healing denture, final fixed denture, and all parts, lab fees, and surgical procedures. It does not include general anesthesia services.
Dental implants are considered the gold standard approach to teeth replacement, as they provide a wide range of benefits and can last many years. The results are designed to be exceptionally natural-looking, comfortable, and easy to wear. Generally speaking, implant dentures can cost less than a full set of dental implants. We will review the anticipated total cost with you during your initial appointment, and if interested, we can go over your dental financing options. We will also answer any questions you may have and address any concerns.
Do You Offer Any Implant Dentures Alternatives?
While implant-supported dentures often prove to be an effective replacement for missing teeth, some patients may benefit more from other custom-made restorations. If you cannot or prefer not to undergo implant surgery, porcelain bridges provide another treatment option that can recover biting function while making your smile whole again. A dental bridge is a set of artificial teeth—similar to a partial denture—that can replace multiple missing teeth in a row. The bridge is custom-designed to fit seamlessly within your smile and attached to healthy teeth on adjacent sides of the gap.
While a bridge does not stimulate the jawbone, it can help prevent surrounding teeth from shifting out of place. Plus, a porcelain bridge can recover your smile almost immediately without the need for a multi-stage treatment. Upon assessing your needs, our dentists can help you decide whether a bridge or an implant denture is best-suited to resolve your concerns. If you like the idea of a secured restoration but only need to replace a few missing teeth, we can also anchor a dental bridge to the jawbone with dental implants.
Additional Implant Denture FAQs
How many dental implants will it take to secure my dentures?
The number of implants required to secure your new smile depends on how many teeth need replacing, as well as your jawbone density. When anchoring implant-supported dentures, dental implants are usually inserted into areas of the mouth that have adequate bone volume. Therefore, your implant surgeon or periodontist will assess the state of your jawbone, and subsequently determine how many implants are needed to properly affix your denture(s) for long-term results. Generally speaking, patients can expect anywhere from two to six implants to replace a single dental arch. 
How do I clean my implant dentures?
One of the many benefits of implant dentures is the minimal maintenance necessary to keep them in good condition. The daily oral hygiene required to keep your natural teeth clean and healthy is typically enough to preserve your restorations. Simply brush and floss as you normally would, and continue to attend your semi-annual dental appointments so your dentist can monitor your mouth for any potential concerns. 
Are there any food restrictions with implant dentures?
During the initial healing period after implant surgery, you may be temporarily restricted to a liquid or soft-food diet. Rest assured that your dentist will explain all of the food restrictions that should be adhered to until your gums heal. Once your dental implants have fully integrated with your jawbone and the denture is secured, you should be able to enjoy all of the foods you were previously unable to eat! The security made possible with implant dentures allows patients to eat tough or crunchy foods that may have been difficult to chew with unstable restorations. 
What will my new smile look like after implant dentures? 
You can actually preview the potential results of the implant denture procedure using our advanced Digital Smile Design technology! With this imaging software, our dentists can show you what your new smile may look like, and make changes to your treatment plan accordingly based on your overall goals. This tool allows our team to give patients an idea of what can be achieved with implant dentures and other reconstructive dentistry procedures before any treatment begins. During your consultation, you will also be shown before-and-after photos to provide further insight into how implant dentures can transform your smile. 
Are implant dentures covered by insurance?
Some costs associated with implant-supported dentures may or may not be covered by dental insurance. This depends on your unique situation and insurance policy, and our office will assist you in evaluating the total costs of treatment during your appointment. For all out-of-pocket costs, financing through CareCredit® and Lending Club® can help make expenses more affordable for qualified patients.
Ready to rebuild your smile? Talk to us today to learn more and to schedule a consultation with our experienced dentists.