Orthodontist
Meet John R. Jerome, DDS, MS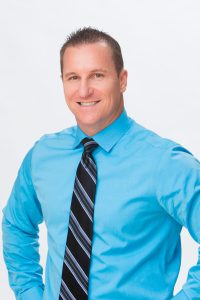 Dr. Jerome graduated from California State University, Northridge, with a Bachelor of Science in Biology. He earned his Doctor of Dental Surgery (DDS) degree from the University of Southern California School of Dentistry where he served in numerous leadership positions. He graduated with Honors and was the recipient of several awards, most notably, the American Association of Oral Biologists Award, Pierre Fauchard Academy Award, Garrett Newkirk Memorial Award, and the Omicron Kappa Upsilon Donald C. Curnutte Memorial Scholarship.
Upon graduation, Dr. Jerome was commissioned in the United States Navy and completed an Advanced Education in General Dentistry at the Naval Medical Center San Diego and served two years as a dental officer at the Marine Corps Air Station, Miramar. He deployed in support of Operation Iraqi Freedom for 7 months to Camp Fallujah.
Dr. Jerome then returned to the University of Southern California School of Dentistry and completed a three-year advanced training program in Orthodontics earning his Certificate in Orthodontics and Master of Science in Craniofacial Biology. He is Board Certified by the American Board of Orthodontics.
Dr. Jerome is actively involved in his professional community and is a member of Omicron Kappa Upsilon Dental Honor Society, American Association of Orthodontics, Pacific Society of Orthodontics, San Diego County Dental Society, and the San Diego Academy of Orthodontists.
He grew up in Southern California and resides in San Diego with his wife, Sarah, and their son, JJ. In his free time, he loves to play tennis or spend time outdoors with his family.
What Is an Orthodontist?
An orthodontist is a dentist that went on to complete additional training in the subspecialty of tooth and jaw movement, medically known as orthodontics and dentofacial orthopedics. Orthodontists are specifically trained to understand growth development of the teeth, jaws, and oral structures, as well as facial form. In other words, orthodontists do much more than put braces on people; they help ensure the teeth come together correctly and comfortably for the best function. Malocclusion (literally "bad bite") can develop for a number of reasons, and a big part of what orthodontists do is determine the cause of the concern and design treatment to address malocclusion and dental misalignment.
Why Choose a Board Certified Orthodontist?
It is essential to choose an extensively trained and competent orthodontist to ensure the best possible orthodontic treatment. One of the best ways to determine if an orthodontist has the skill and experience to provide exceptional care is to check if they are board certified. The American Board of Orthodontics evaluates each applicant to ensure they have completed the necessary educational requirements at accredited institutions. They must also complete a rigorous examination process, complete yearly continuing education courses, and renew their certification every 10 years. The American Board of Orthodontics emphasizes a patient-focused approach that underscores the importance of excellence in safety and results. Dr. Jerome is a board-certified orthodontist who values the opportunity to help patients achieve the healthiest and most beautiful smile of their lives, whether with the assistance of Invisalign® or another teeth-straightening system.
How to Find the Best Orthodontist for You
We understand that finding the right orthodontist for your family's needs can sometimes be a complicated process. In addition to confirming if a prospective orthodontist is certified by the American Board of Orthodontics, we recommend asking them several questions. This can give you a better idea of their demeanor, approach to treatment, and treatment recommendations. During your initial consultation, we recommend talking about:
Education and training
Board certification
Years in practice
Suggested treatments
Alternative options
Before-and-after photos of similar cases
Cost of treatment
Length of treatment time
Your prospective orthodontist should listen attentively and make their best effort to address all your concerns. You should feel confident and comfortable in their approach—remember, this is the beginning of a hopefully long-lasting relationship. You want to choose someone you feel at ease with.