All-on-4™
Traditional removable dentures are one of the most common ways to address most or all missing teeth; however, many patients who use these types of dentures experience discomfort and frustrating limitations. At Scripps Center for Dental Care, our skilled dentists offer a state-of-the-art alternative called All-on-4. This technique can provide greater comfort, stability, and freedom than traditional dentures without the cost of a full set of dental implants.
What Is All-on-4™?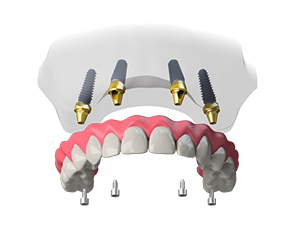 All-on-4 is a type of implant denture that is used to replace missing teeth on the upper or lower arch. This device, sometimes called an implant-supported denture or an implant-anchored denture, utilizes four dental implants secured by a denture appliance, providing a snug, comfortable fit and typically excellent results. If you are not a candidate for a full set of dental implants due to insufficient jawbone density, All-on-4 may still be an option for you.
What Are the Benefits of All-on-4™?
Patients may experience different benefits depending on what bothered them initially about traditional removable dentures or loss of teeth. In general, some of the benefits of All-on-4 include:
Exceptional security and stability without "slippage"
Reduced gum irritation
No messy pastes, gels, or other types of adhesives
Easy maintenance
Ability to chew and speak with ease and comfort
Retention of jawbone density
Beautiful results
What Should I Expect During the All-on-4™ Procedure?
All-on-4 is specifically used to replace a full arch, either the upper, the lower, or both. If you're looking to replace a quadrant of teeth, implant dentures can still be useful to you, and we will discuss your options at your initial consultation. Our primary concern is always to provide exceptional care based on your individual needs and goals. With All-on-4, you can have:
Upper Arch Replacement
In most cases, four dental implants will be used to replace all of the teeth on the upper arch (top of the mouth). If you have any remaining teeth, these will be carefully extracted prior to beginning the All-on-4 treatment.
Lower Arch Replacement
The lower arch replacement works just like the upper arch: usually four dental implants will be placed to anchor the denture appliance, which replaces all the teeth on the bottom of the mouth. Again, if there are any remaining teeth, these will be removed prior to the treatment.
Full Mouth Restoration
In the event you need all your teeth on the upper and lower arches replaced, we may recommend a full mouth restoration. This procedure is fully customizable and allows us to restore your smile with the best possible outcome. If this technique is right for you, we will provide detailed information about the process and what you can expect.
Digital images will be taken to help our dentists plan your procedure with precision for the optimal outcome. During this process, we will determine if four implants or six implants (called All-on-6) will provide the desired result. The implant posts will be placed through the gumline and into the jawbone, where they should gradually integrate with the bone. Once healed, the permanent denture appliance will be affixed. While you are healing, we will provide a temporary denture, so you will never be without a functional smile.
How Much Do All-on-4™ Dental Implants Cost?
The cost of All-on-4 will depend on the details of your treatment plan. That said, at our practice an implant-supported full arch hybrid denture generally costs around $27,000 to $35,000 per arch (upper or lower), depending on the number of implants needed and the complexity of your program. While this number includes a fixed transitional healing denture (temporary), final fixed denture, and all parts, lab fees, and surgical procedures, it doesn't include general anesthesia services. We understand that cost is an important part of your decision-making process. We are dedicated to delivering the best possible care at every stage of treatment, and that includes providing information about the price of All-on-4. We will go over the full estimated cost of your personalized program at your initial consultation. Dental insurance typically covers a portion of the cost, and we offer dental financing if you would like to consider a payment plan for some or all of your treatment.