All-On-4®
Traditional removable dentures are one of the most common ways to address most or all missing teeth; however, many patients who use these types of dentures experience discomfort and frustrating limitations. At Scripps Center for Dental Care, our skilled dental team offers a state-of-the-art alternative called All-on-4. This technique can provide greater comfort, stability, and freedom than traditional dentures without the cost of a full set of dental implants.
What Is All-on-4®?
All-on-4 is a type of implant denture that is used to replace missing teeth on the upper or lower arch. Unlike a regular denture, All-on-4 uses four strategically placed dental implants to anchor the prosthesis to your jawbone. This essentially helps make the denture a natural part of your mouth, providing security without the expense and invasiveness of receiving a mouth full of dental implants. Sometimes called an "implant-supported denture" or an "implant-anchored denture," this restoration often provides a snug, comfortable fit and excellent results. If you are not a candidate for a full set of dental implants due to insufficient jawbone density, All-on-4 may still be an option for you.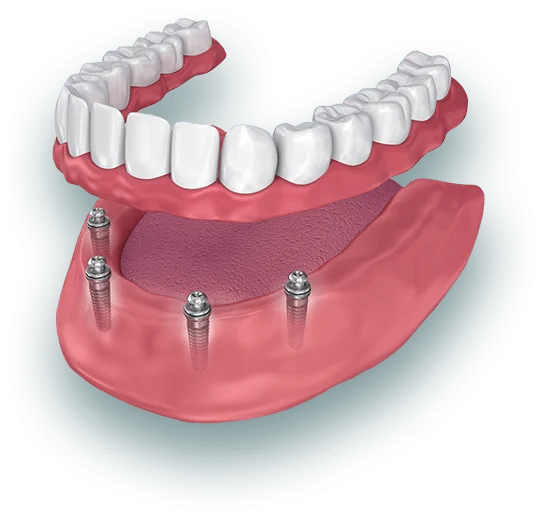 What Are The Pros And Cons Of All-on-4®?

Patients may experience different benefits depending on what concerns about traditional removable dentures or loss of teeth bothered them initially. In general, some of the benefits of All-on-4 include: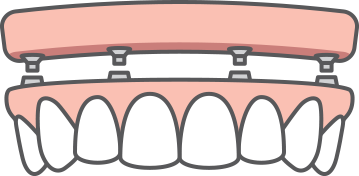 Exceptional security and stability without "slippage"
Reduced gum irritation
No messy pastes, gels, or other types of adhesives
Ability to chew and speak with ease and comfort
Retention of jawbone density
Beautiful results and easy maintenance
While considered by many to be a highly effective method of replacing entire rows of teeth, All-on-4 is not for everyone. This technique is most successful for patients with a healthy immune system who are willing to undergo oral surgery. The jawbone density of an individual can also contribute to whether one may or may not benefit from All-on-4. Our dentist and oral surgeon will review your medical history and take the appropriate x-rays and diagnostic images to assess whether your smile can be restored with All-on-4.
Is All-on-4® Right for Me?
All-on-4 can be an excellent technique to replace an entire row of missing teeth. This treatment is generally reserved for patients who are seeking a long-term solution to address their tooth loss and who don't mind undergoing oral surgery. The best candidates for All-on-4 also have: 
A desire to obtain a more secure and stable fit for their removable dentures
Good oral and general health, with no signs of gum disease or any health conditions that may disrupt the healing process
Enough jawbone volume to support their dental implants
A willingness to stop smoking before and after the procedure
In some cases, prior treatment may be necessary before starting the All-on-4 process — particularly if you experience gum recession or require periodontal treatment. Our team, which includes board-certified periodontist Erez Nosrati, DMD, will fully examine your teeth, mouth, and bone structure to help confirm that All-on-4 is an ideal option for your needs.
All-On-4® vs. Traditional Dentures
All-on-4 implant dentures are popularly thought of as a more secure and natural-looking upgrade from removable dentures. The use of implants to snap a prosthesis in and out of place often allows patients to feel more confident when eating, drinking, or speaking, not to mention introduces the ability to enjoy tougher foods due to the reduced gum slippage. In addition to All-on-4 anchored dentures often making daily life more convenient, this technique can also be beneficial to a patient's oral health. While removable dentures can present the appearance of a full smile, they do not stimulate the bone tissue as a natural tooth root would. Consequently, dentures alone typically cannot prevent bone erosion caused by missing teeth. In contrast, the implants utilized by All-on-4 are designed to mimic the function of a tooth root while replicating the tooth body, effectively restoring both form and function.
All-On-4® vs. Full Mouth Restoration
When using dental implants to recover a dental arch, patients generally have two options: full mouth restoration with a full set of dental implants, or using All-on-4 to secure a custom-made denture with four to six implants. Generally speaking, patients with less bone volume may be better suited for All-on-4 since the technique does not require as much jawbone support as numerous implants placed consecutively. However, full mouth restoration with single implants can also have its own advantages, such as not having to wear a denture and enhanced bone stimulation. The best approach for you will depend on your needs, and our dentists will discuss your goals with you to formulate an ideal treatment plan.
Can I See a Preview of My New Smile?
Yes! Our team understands that patients may be hesitant to commit to a transformative treatment like All-on-4 when they do not have a solid understanding of what the final outcome could look like. Fortunately, Scripps Center for Dental Care uses advanced computer imaging technology to create a digital representation of your potential treatment results! Digital Smile Design (DSD) can be a valuable tool to help you gain a better idea of how your smile will be enhanced after you complete the treatment process. Using a combination of photography and dental imaging technology, we're able to render a virtual "preview" of your new smile after treatments like porcelain veneers, implant placement, or a full smile makeover. This can help you better communicate your concerns, allow you and your dental team to attain a mutual understanding of treatment goals, and give you realistic expectations for the final results.
What Should I Expect During The All-on-4® Procedure?
All-on-4 is specifically used to replace a full arch, either the upper, the lower, or both. If you're looking to replace a quadrant of teeth, implant dentures can still be useful to you, and we will discuss your options at your initial consultation. Our primary concern is always to provide exceptional care based on your individual needs and goals. With All-on-4, you can have: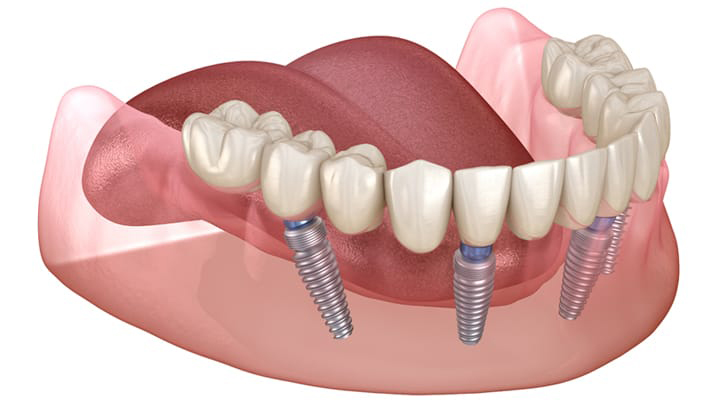 Upper Arch Replacement
In most cases, four dental implants will be used to replace all of the teeth on the upper arch (top of the mouth). If you have any remaining teeth, these will be carefully extracted prior to beginning the All-on-4 treatment.
Lower Arch Replacement
The lower arch replacement works just like the upper arch: usually four dental implants will be placed to anchor the denture appliance, which replaces all the teeth on the bottom of the mouth. Again, if there are any remaining teeth, these will be removed prior to the treatment.
Full Mouth Restoration
In the event you need all your teeth on the upper and lower arches replaced, we may recommend a full mouth restoration. This procedure is fully customizable and allows us to restore your smile with the best possible outcome. If this technique is right for you, we will provide detailed information about the process and what you can expect.
Digital images will be taken to help our dentists plan your procedure with precision for the optimal outcome. During this process, we will determine if four implants or six implants (called All-on-6) will provide the desired result. The implant posts will be placed through the gumline and into the jawbone, where they should gradually integrate with the bone. Once healed, the permanent denture appliance will be affixed. While you are healing, we will provide a temporary denture, so you will never be without a functional smile.
What is Recovery From the All-on-4 Procedure Like?
Although the implant procedure is considered minimally invasive, proper aftercare following your surgery is essential. Since you will still be under the effects of anesthesia after the implant procedure, a friend or loved one will have to pick you up from our office. Plenty of rest is encouraged once you return home. While not all patients take off work, staying home for a few days is recommended if your job involves strenuous activities. It's very important to avoid touching the implant site and refrain from vigorous rinsing until your gums begin to heal. Biting down on gauze is advised to help control bleeding, and any discomfort can typically be managed with over-the-counter pain medication. The healing process usually takes one week. Dr. Erez Nosrati or Dr. Evan Gold, our in-house periodontist and oral surgeon, respectively, will go over your aftercare instructions in greater detail once you visit our practice.
What are the Risks of All-On-4®?
Complications from All-on-4 are rare, but the risks do exist—especially if a qualified dental team is not performing your treatment. Issues that can arise from All-on-4 include complications during the osseointegration (bone fusing) process, infection, negative reactions to the sedation or anesthesia, and/or implant failure caused by gum disease. Most of these risks can be avoided with the attention and care of an experienced All-on-4 dentist, who can accurately assess whether you are a good candidate for the procedure. This is why we utilize a multispecialty team at Scripps Center for Dental Care, which includes an in-house oral surgeon, prosthodontist, periodontist, and two AACD-accredited cosmetic dentists to help ensure the safe restoration of your smile using the best restorative dentistry treatment for your unique needs.
How Much Do All-on-4® Dental Implants Cost?
The cost of All-on-4 will depend on the details of your treatment plan. That said, at our practice an implant-supported full arch hybrid denture generally costs around $27,000 to $35,000 per arch (upper or lower), depending on the number of implants needed and the complexity of your program. While this number includes a fixed transitional healing denture (temporary), final fixed denture, and all parts, lab fees, and surgical procedures, it doesn't include general anesthesia services. We understand that cost is an important part of your decision-making process. We are dedicated to delivering the best possible care at every stage of treatment, and that includes providing information about the price of All-on-4. We will go over the full estimated cost of your personalized program at your initial consultation. Dental insurance typically covers a portion of the cost, and we offer dental financing if you would like to consider a payment plan for some or all of your treatment.
How Long Do All-on-4® Implants Last?
Dental implants can last indefinitely, as long as you take good care of your teeth and gums. They are designed to be lifetime tooth replacements and often provide good results for at least 15 to 20 years. Similar to your natural teeth, habits such as bad oral hygiene and smoking can lead to cavities, infections, periodontal disease, and other oral health concerns that may shorten the lifespan of your implants. For this reason, we recommend keeping up with the semi-annual exams and professional cleanings that are usually required to maintain your oral wellness. If you grind or clench your teeth, a mouthguard or night guard is also suggested to minimize unnecessary pressure on your implants.
Can All-on-4® Implants Fail?
All-on-4 implants maintain a success rate of over 95 percent, but there are factors that can cause implant failure months or years after your procedure. In most cases, an implant's failure to fuse with the jawbone is the result of inadequate bone volume, gum disease, poor oral hygiene, or smoking during the healing process. Before your treatment, our team will always work to ensure you have a healthy mouth and solid foundation of jawbone support for your implants. This, combined with good oral hygiene to prevent bacteria buildup around your implants, can greatly minimize the risk of implant failure.
Additional All-on-4® FAQs
How do you clean All-on-4 implants?
One of the primary benefits of All-on-4 is that you can keep your implants in good condition by simply brushing and flossing your teeth as you normally would. Like your natural teeth, normal daily oral hygiene and semi-annual dental cleanings are typically all that is necessary to maintain the cleanliness of your implants.
What should I be eating after All-on-4 implants?
The areas surrounding your newly placed implants will likely be sore/numb after the All-on-4 procedure, therefore we recommend a liquid diet of soup, yogurt, mashed potatoes, or smoothies immediately after implant surgery. When the anesthesia wears off, you may gradually progress to soft foods like pasta, eggs, and fruit. It is generally best to avoid foods served at extreme temperatures and meals that require excessive chewing until your mouth heals.
Is All-on-4 covered by dental insurance?
The possibility of your costs being covered by dental insurance depends on your unique policy and the extent of your needs. For some patients, a portion of the fees may be applicable for insurance coverage. Our office will be able to discuss your payment options in further detail after your consultation. In the meantime, we encourage you to contact your insurance provider to learn the full scope of your benefits. We also accept dental financing via CareCredit® and Lending Club® from qualified patients for all out-of-pocket costs.
Will I need a bone grafting procedure?
Because All-on-4 usually requires fewer implants to secure a denture, this technique often saves patients the need for a bone grafting procedure. Each patient's treatment plan varies, so our team will assess your bone structure to determine whether you need a bone graft to establish a more supportive foundation before oral surgery.
Who should perform All-on-4?
All-on-4 is a treatment that involves preliminary evaluation of your gums and bone structure, oral surgery, and the fabrication of a custom-designed restoration. For this reason, your All-on-4 procedure should ideally be performed by a multidisciplinary team of periodontists, oral surgeons, and cosmetic dentists so that each stage of the process is executed safely and correctly. This is why our in-house dental specialists adopt a collaborative approach and work together on your treatment plan to achieve the best outcomes.
Discover how All-on-4 can restore your entire smile by scheduling a consultation with our dentists. Please contact our practice online to book your appointment, or call (858) 535-8300 to speak with a member of our team.