Porcelain Veneers
Natural Looking Aesthetics
There is arguably no treatment in cosmetic dentistry as versatile and transformative as porcelain veneers. At Scripps Center for Dental Care, our accredited cosmetic dentists routinely use porcelain veneers as the foundation for the most dramatic smile makeovers, creating bright, vibrant, flawless smiles that look completely natural. In terms of their durability and realistic appearance, porcelain veneers are simply unmatched among cosmetic dentistry treatments.
Whether you are looking to treat a single tooth or make over your entire smile, porcelain veneers offer a potentially ideal solution. For further information about porcelain veneers, please contact our office to schedule a consultation today.
What Are Porcelain Veneers?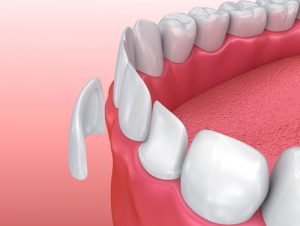 Veneers are thin sheets of ceramic glass that are shaped to fit over your teeth, offering a natural-looking option for concealing cracks, chips, discoloration, and other cosmetic flaws. We also offer porcelain veneers as an alternative to more time-consuming orthodontic treatment methods; our dentists often use veneers as a form of "instant orthodontics" to fix minor gaps and misalignment. For our patients who desire more comprehensive smile makeover results, our dental specialists often combine porcelain veneers with other cosmetic dentistry options such as teeth whitening. With porcelain veneers, you can have a stunning smile in as little as two office visits.
The key to the realistic appearance of veneers lies in the light reflecting properties of porcelain. Like natural tooth enamel, porcelain is translucent, meaning that it allows some light to pass through its surface rather than simply reflecting it. When this high-grade porcelain is custom-crafted to complement the size, shape, color, and texture of surrounding natural teeth, it is virtually indistinguishable from enamel. To achieve optimal aesthetic results, our cosmetic dentists work with the world's leading ceramists accredited in cosmetic ceramic restorations.
What Does Accreditation Mean?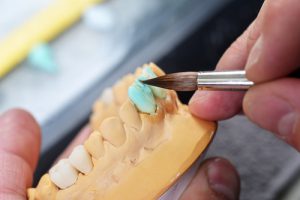 At Scripps Center for Dental Care, we utilize AACD accredited cosmetic ceramists because they have the training and skill to provide unsurpassed results. Achieving accredited status requires a lab to follow an exacting protocol, complete continuing education, and dedicate itself to producing an exceptional outcome every time. The beauty and durability of your smile is in the hands of these dedicated professionals, which is why choosing a AACD accredited laboratory is a major factor in the final appearance of your smile.
The Veneer Placement Process
The first step in the process of placing porcelain veneers is a consultation with one of our cosmetic dentists. During this consultation, we will determine whether you are a suitable candidate for veneers. Using advanced digital imaging technology, we can create a mockup of your smile so that you can preview what you may look like after treatment. This smile design can help you decide whether porcelain veneers are the right choice for you.
Once it is determined that you are a good candidate for porcelain veneers, a digital impression of your teeth will be made and sent to our master cosmetic ceramist, who will custom craft veneers according to precise specifications provided by our office. Temporary veneers will be placed on your teeth to protect them while your porcelain veneers are being hand crafted. You will return to our office for a second visit once your porcelain veneers are ready, and we will bond them to the front surfaces of your teeth. You will leave this second appointment with a beautifully restored smile that will last for years with proper maintenance.
Alternatives to Porcelain Veneers
In addition to porcelain dental veneers, we offer composite resin veneers. Both options offer unique benefits, and helping you select the ideal approach for your needs and goals is our primary objective. One of the many advantages of using composite resin is the quick treatment process. Composite veneers can be placed in a single appointment and they can be repaired if broken, while porcelain veneers require two visits and must be replaced if chipped or cracked. An additional advantage of using composite veneers is a typically lower cost of treatment. It's important to remember that composite veneers generally cannot achieve the same natural-looking effect as porcelain, and they are more likely to develop stains from certain foods, beverages, and lifestyle habits.
Both composite and porcelain veneers can provide long-lasting results with good oral hygiene and care, although porcelain typically lasts several years longer than composite. Depending on the patient's unique requirements and cosmetic goals, combining techniques may also be possible.
Another potential alternative to porcelain veneers are dental crowns; however, this method is rarely recommended as it's a much less conservative approach to smile enhancement. If you have additional questions about any of these options, our skilled dentists will be happy to provide information tailored to your needs during your initial consultation.
If you would like to learn more about porcelain veneers or schedule a consultation, contact Scripps Center for Dental Care today.