Porcelain Veneers
Natural Looking Aesthetics
There is arguably no treatment in cosmetic dentistry as versatile and transformative as porcelain veneers. At Scripps Center for Dental Care, our accredited cosmetic dentist routinely use porcelain veneers as the foundation for the most dramatic smile makeovers, creating bright, vibrant, flawless smiles that look completely natural. In terms of their durability and realistic appearance, porcelain veneers are simply unmatched among cosmetic dentistry treatments.
Whether you are looking to treat a single tooth or make over your entire smile, porcelain veneers offer a potentially ideal solution. For further information about porcelain veneers, please contact our office to schedule a consultation today.
What Are Porcelain Veneers?
Veneers are thin sheets of ceramic glass that are shaped to fit over your teeth, offering a natural-looking option for concealing cracks, chips, discoloration, and other cosmetic flaws. We also offer porcelain veneers as an alternative to more time-consuming methods of orthodontics; our dentists often use veneers as a form of "instant orthodontics" to fix minor gaps and misalignment. For our patients who desire more comprehensive smile makeover results, our dental specialists often combine porcelain veneers with other cosmetic dentistry options such as teeth whitening. With porcelain veneers, you can have a stunning smile in as little as two office visits.
The key to the realistic appearance of veneers lies in the light reflecting properties of porcelain. Like natural tooth enamel, porcelain is translucent, meaning that it allows some light to pass through its surface rather than simply reflecting it. When this high-grade porcelain is custom-crafted to complement the size, shape, color, and texture of surrounding natural teeth, it is virtually indistinguishable from enamel. To achieve optimal aesthetic results, our cosmetic dentists work with the world's leading ceramists accredited in cosmetic ceramic restorations.
Am I a Good Candidate for Porcelain Veneers?
Ideal candidates for porcelain veneers have relatively healthy teeth and gums, but would like to improve their smile by addressing minor imperfections. With veneers, even small enhancements can transform your smile by allowing a more uniform and youthful appearance. Cosmetic dental concerns typically corrected with minimally invasive veneers include:
Chips and cracks
Gaps
Uneven and irregularly-shaped teeth
Misalignments
Discoloration and deep stains
Worn-down enamel
Aged or dull teeth
Excessive or uneven gums
Porcelain veneers are usually most successful when used to repair mild dental flaws that are cosmetic in nature. Our board-certified dental specialists at Scripps Center for Dental Care are very skilled at creating beautiful results with porcelain veneers, and can work together to develop a treatment plan for your unique concerns.
What Are the Pros and Cons of Porcelain Veneers?
Porcelain veneers are one of the most popular and conservative cosmetic treatments due in part to the many benefits they offer. Some examples include:
Durable and long lasting due to stronger porcelain materials now available
Beautiful, natural-looking results due to "contact lens" effect
Address a wide range of cosmetic concerns (gaps, cracks, stains, discoloration, enamel erosion, gummy smiles, misalignment, and more)
Minimally invasive procedure; in many cases, no grinding is needed
Porcelain veneers require a small amount of tooth reshaping to achieve a natural-looking outcome, which makes this procedure permanent. If you're looking for a more temporary solution, this treatment may not be the best choice for you. We will discuss your options in full at your initial consultation, so you can make an informed choice.
Why Choose Us for Your Porcelain Veneers?
At Scripps Center for Dental Care, we utilize AACD-accredited cosmetic ceramists because they have the training and skill to provide unsurpassed results. Achieving "accredited" status requires a lab to follow an exacting protocol, complete continuing education, and dedicate itself to producing an exceptional outcome every time. The beauty and durability of your smile is in the hands of these dedicated professionals, which is why choosing an AACD-accredited laboratory is a major factor influencing the final appearance of your smile.
Patient Results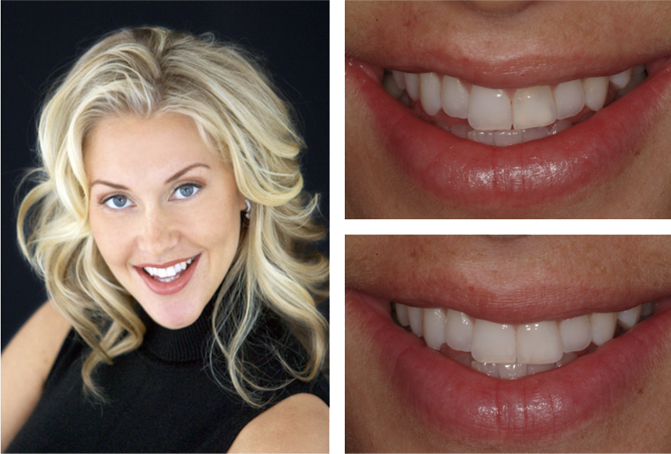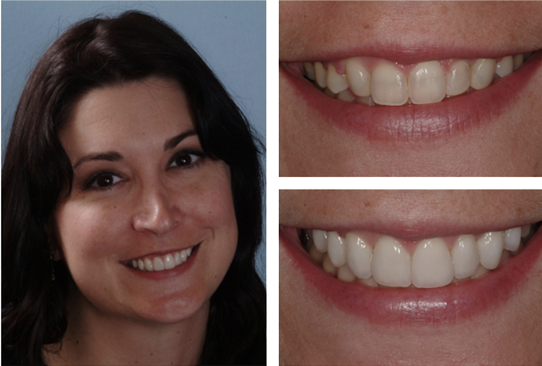 The Veneer Placement Process
The first step in the process of placing porcelain veneers is a consultation with one of our cosmetic dentists. During this consultation, we will determine whether you are a suitable candidate for veneers. Using advanced digital imaging technology, we can create a mockup of your smile so that you can preview what you may look like after treatment. This smile design can help you decide whether porcelain veneers are the right choice for you.
Once it is determined that you are a good candidate for porcelain veneers, a digital impression of your teeth will be made and sent to our master cosmetic ceramist, who will custom craft veneers according to precise specifications provided by our office. Temporary veneers will be placed on your teeth to protect them while your porcelain veneers are being hand-crafted. You will return to our office for a second visit once your porcelain veneers are ready, and we will bond them to the front surfaces of your teeth. You will leave this second appointment with a beautifully restored smile that will last for years with proper maintenance.
Do Porcelain Veneers Require Recovery Time?
One of the most notable benefits of porcelain veneers is the ability to transform your smile without the need for a recovery period. After getting porcelain veneers, the treated area may seem tender or swollen. It can also take some time to become accustomed to the feeling of wearing your veneers; however, no downtime is necessary after this in-office procedure. Your dentist may instruct you to stick to a certain diet or chew on one side of the mouth for the first day or so after getting porcelain veneers. Our team will give you a better idea of what to expect after getting porcelain veneers during your appointment. While patients do not typically report pain after treatment, some discomfort may occur and can easily be managed with over-the-counter medications.
Consultation

Smile Design

Temporaries

Final Placement
How Do I Maintain My Porcelain Veneers?
Once the porcelain veneer treatment is complete, ongoing maintenance is similar to caring for your natural teeth. Normal at-home oral hygiene practices consisting of daily brushing and flossing, along with twice-annual exams and professional cleanings, to reduce bacteria in the mouth are strongly recommended. Although veneers are extremely durable, it can help to be mindful about how biting down on hard foods/ice cubes can potentially affect your restorations. If you have a habit of grinding or clenching your teeth during sleep, you may want to try wearing a night guard to curb unnecessary damage to the veneers. Should the need arise, our sports dentistry options at Scripps Center for Dental Care also offer customized state-of-the-art mouth guards designed for comfort and protection.
How Long Do Porcelain Veneers Last?
By using the highest-quality materials and craftsmanship, porcelain veneers can last 15 years, 20 years, or even longer. You can help extend the duration of your veneers with maintaining excellent oral care habits, wearing a bite guard at night, and visiting the dentist as recommended. When the need for a replacement arrives, we can help you exchange the veneers, so you never have to go without your smile.
How Much Do Porcelain Veneers Cost?
The price of porcelain veneers will depend on how many teeth you want to correct, the complexity of your cosmetic program, and other factors unique to you. Generally speaking, porcelain veneers can cost around $2,000 for each veneer, which includes cosmetic evaluation , custom smile design, and temporaries while waiting for lab work. We always discuss the costs associated with your procedure before getting started. We customize every treatment plan to the patient's needs and desired outcome. If you would like to consider financing options, we work with reputable lenders and offer split payments in certain cases. We are happy to provide additional information during your appointment.
Getting veneers done with Dr John Weston at Scripps Center for Dental was one the best decisions I have ever made. I did it well over a decade ago and I am still happy with the results. Dr Weston and his team are the best of the best.

Keith Humes

April 11, 2018

12345
Porcelain Veneers vs. Porcelain Crowns
Dental veneers and crowns are two very popular treatments that are invaluable to both cosmetic and restorative dentistry. With the ability to be crafted from high-quality dental porcelain, these restorations can bear a striking resemblance to your natural teeth and often last years with good care. That said, veneers and crowns are utilized for different purposes — porcelain veneers primarily resolve minor cosmetic flaws, while porcelain crowns are more designed to strengthen a weak tooth and protect it from further damage.
Porcelain veneers can be very strong and durable, but they are most successful when used to mask gaps, discoloration, chips, short teeth, and other cosmetic imperfections. They are not usually placed when there is evidence of cavities, disease, bacteria buildup, or infections in the mouth. On the other hand, dental crowns are utilized to reinforce a damaged or broken tooth, often protecting the tooth from an extraction or worsening oral health issues. In this way, porcelain crowns are typically placed for the overall health of a tooth rather than its appearance, although patients do enjoy aesthetic benefits to a certain extent.
Porcelain Veneers vs. Composite Veneers
In addition to porcelain dental veneers, we offer composite resin veneers. Both options offer unique benefits, and helping you select the ideal approach for your needs and goals is our primary objective. One of the many advantages of using composite resin is the quick treatment process. Composite veneers can be placed in a single appointment and they can be repaired if broken, while porcelain veneers require two visits and must be replaced if chipped or cracked. An additional advantage of using composite veneers is a typically lower cost of treatment. It's important to remember that composite veneers generally cannot achieve the same natural-looking effect as porcelain, and they are more likely to develop stains from certain foods, beverages, and lifestyle habits.
Both composite and porcelain veneers can provide long-lasting results with good oral hygiene and care, although porcelain typically lasts several years longer than composite. Depending on the patient's unique requirements and cosmetic goals, combining techniques may also be possible.
Another potential alternative to porcelain veneers are dental crowns; however, this method is rarely recommended as it's a much less conservative approach to smile enhancement. If you have additional questions about any of these options, our skilled dentists will be happy to provide information tailored to your needs during your initial consultation.
Composite veneers are an alternative and can be placed in a single appointment, helping you select the ideal approach for your needs and goals is our primary objective.
Can I Get Prepless Veneers?
Prepless veneers are similar to porcelain veneers and utilized to treat the same concerns, however — as the name suggests — prepless veneers do not require any prior preparation before placement. Porcelain veneers usually require a dentist to remove a small strip of tissue from the teeth in order to make room for the veneer and ensure results look natural. In contrast, there is no removal of your natural tissue with prepless veneers. Not all patients are good candidates for a prepless approach, and our dentists will evaluate your needs to determine the best type of veneer to achieve your goals. Ultimately, the goal of treatment is to achieve a healthy and natural-looking improvement to your smile.
Alternatives to Porcelain Veneers
Porcelain veneers are a brilliant solution for a variety of dental concerns; however, there are alternative options that can also be beneficial in transforming your smile:
Dental Bonding: Strong tooth-colored material that's applied in layers to fill chips and gaps, improving the shape and appearance of a damaged tooth. While effective and non-invasive when compared to other restorations, dental bonding typically does not last as long as porcelain veneers.
Porcelain Crowns: Custom-designed to top an entire tooth to restore structure, function, and appearance. This treatment works best when addressing teeth that are too decayed or damaged for a porcelain veneer to successfully repair.
Invisalign®: Clear, thermoplastic aligners that can treat tooth misalignments, crowding, gaps, and bite issues. The average treatment time is approximately nine to fifteen months, but orthodontics can more thoroughly correct misalignments in the jaw and bite.
Teeth Whitening: Professional-strength whitening systems designed to remove stains and yellowing caused by enamel discoloration, allowing a brighter smile. Our team offers both in-office and at-home whitening kits.
During your personal consultation, our team will evaluate whether your goals can be achieved with porcelain veneers or the other cosmetic dental care treatments available at our practice. Scripps Center for Dental Care utilizes the most efficient and effective techniques possible to provide the highest quality of results.
Learn More About Porcelain Veneers
Some of the most commonly asked questions about porcelain veneers are answered below. If you would like to know more, we invite you to contact our practice and schedule a consultation.
How strong are porcelain veneers?
Porcelain veneers are incredibly thin, but that does not make them weak or fragile. Once bonded in place, they are incredibly strong. We don't recommend using your teeth as tools (with or without veneers) to cut things, open packages, or pop bottles, but veneers are very resistant to chips, cracks, and temperature changes. So if you'd like, go ahead and enjoy a hot cup of tea with a bowl of ice cream.
How do I care for my porcelain veneers?
How you treat your smile will determine in part how long it lasts. We advise patients to brush twice daily and floss once daily as usual, as well as to attend regular checkups with the dentist. If you notice anything amiss about your veneers, contact us right away so that we might address the concern as quickly as possible. Wearing a bite guard when prescribed is a must if you want your veneers to last.
Does insurance cover porcelain veneers?
Although porcelain veneers can be used to bolster the strength of a mildly damaged tooth, veneers are typically considered a cosmetic treatment, and are therefore not covered by dental insurance plans. We always recommend talking with your agent to confirm coverage before a procedure.
Do porcelain veneers stain?
One of the many benefits of porcelain veneers is their resistance to staining. Porcelain is a non-porous material, so foods and beverages associated with staining teeth (red wine, tea, coffee, berries) usually can't penetrate veneers. It never hurts to be cautious, but you shouldn't expect the veneers to change color.
Can porcelain veneers be whitened?
For the same reason that porcelain veneers are resistant to staining—they are non-porous—they cannot be whitened using traditional bleaching products. We recommend whitening any teeth that are not being treated with veneers prior to having your veneers placed to ensure they all look seamless together.
If you would like to learn more about porcelain veneers or schedule a consultation, contact Scripps Center for Dental Care today.