Can Porcelain Veneers Stain?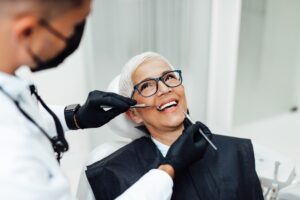 Porcelain veneers are well-known for their ability to enhance the beauty and symmetry of your smile. Since one of the main benefits of veneers include their ability to conceal deep staining and discoloration that teeth whitening cannot reach, many individuals wonder whether these restorations also have the ability to resist staining. Fortunately, porcelain veneers are generally impervious to staining agents such as coffee, tea, wine, and other dark food/drinks. In contrast, composite veneers are usually still vulnerable to discoloration.
Given that porcelain veneers do not typically stain, dentists often recommend a preliminary teeth whitening treatment for certain patients interested in getting a veneer. This allows the porcelain veneer(s) to be color-matched to your brighter, whiter teeth and helps ensure an even tone for your smile.
In general, maintaining the white sheen of your smile can be as simple as committing to good daily oral hygiene. Our dentists recommend brushing your teeth after exposing them to any potential staining agents, such as coffee, blueberries, etc. and keeping up with semi-annual professional dental cleanings. With comprehensive care of your teeth and gums, porcelain veneers can provide lasting beauty for many years — even decades.
Porcelain veneers can be a conservative solution to transform your smile with beautiful, lasting results. Our cosmetic dentist would be happy to review your options with you after listening to your goals and evaluating your concerns. Contact Scripps Center for Dental Care today to learn more about how we can help you attain your dream smile!
Contact Us Today!
For more information, or if you with to schedule a consultation, please don't hesitate to contact our office today.
Contact Us