How Do I Keep My Invisalign® Aligners in Good Condition?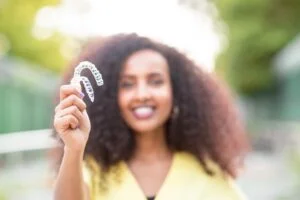 Invisalign® clear aligners have revolutionized the way patients straighten their teeth, offering a more comfortable and less obtrusive treatment to realign your smile when compared to traditional braces. While Invisalign® tends to achieve the desired outcome within the same timeframe as metal braces, the treatment time associated with Invisalign® generally depends on how often you wear your aligners, as well as your ability to keep them in good condition. When your aligners are stained, warped, or otherwise damaged, this can create the need for a new set of aligners and ultimately delay your treatment time. For this reason, proper maintenance, as well as wearing your aligners as instructed by your orthodontist, are both key to minimizing the time it takes to achieve your smile goals.
Fortunately, aligners do not usually require extensive maintenance to remain in good condition. In order to keep your aligners clean, transparent, and ready for wear, you can follow simple preventive measures such as:
Maintaining excellent oral hygiene with at least twice-daily brushing and flossing to prevent bacteria buildup
Cleaning your teeth after meals and before wearing your aligners again to prevent unnecessary staining
Using a soft-bristled toothbrush, unscented soap, and lukewarm water to gently clean your aligners every night
Taking your aligners out when drinking any beverage other than water to avoid discoloration
Using Invisalign® Cleaning Crystals or "RetainerBrite" cleaning products as directed by the packaging, which can be found on the Invisalign® website or Amazon
At Scripps Dental Care, our multispecialty team of dentists works together to create a top-notch orthodontic plan to help patients achieve a healthier bite. Straighten your smile at our "one-stop shop" dental office and contact our La Jolla office today to schedule a consultation.
Contact Us Today!
For more information, or if you with to schedule a consultation, please don't hesitate to contact our office today.
Contact Us