Tips For Invisalign®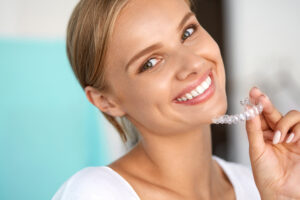 If you wish you could gain a straighter smile without the inconveniences of braces, Invisalign® may be the perfect orthodontic system to achieve the results you desire. The time it takes for metal braces and Invisalign® to straighten teeth is very similar, but your Invisalign® plan can often be completed faster than traditional braces as long as treatment is optimal. With that in mind, our board-certified orthodontist, John Jerome, DDS, MS, has provided a few tips to help Invisalign® patients make the most out of their treatment process: 
Get a travel-size toothbrush.
Invisalign® aligners are transparent, but the key to preserving the clearness of your Invisalign® trays is to keep your mouth as clean as possible. Food residue and staining agents left on the teeth may cause your aligners to look yellow and dirty over time; therefore, it's often helpful to keep a travel-size toothbrush handy so you can brush right after meals and minimize bacteria buildup in your aligners. 
Remove your aligners before drinking anything.
We understand that it may be tempting to take a few sips of coffee without removing your Invisalign® trays, but remember: the sugar and food coloring in beverages like wine, cocktails, teas, coffees, and sodas can stain the clear thermoplastic, potentially making your aligners more conspicuous to outside observers. Whenever possible, it's best to limit exposure to any staining agents that can discolor your aligners.
Wear your aligners as much as possible and change your trays when instructed. 
How much or how little you wear your Invisalign® aligners will directly affect the length of your treatment. To ensure you stay on track with your orthodontic plan, be sure to keep your aligners in place for at least 20 to 22 hours per day and change them when prompted. In general, it's best practice to remove your aligners only when eating, drinking, or cleaning your teeth. 
Practice speaking while wearing your aligners.
At the start of your Invisalign® treatment, do not be alarmed if you talk with a slight lisp as you grow accustomed to wearing your aligners. Rather than remove them, keep your trays in place and practice speaking normally. The lisp should become less and less noticeable as you get used to the feeling of enunciating with your aligners in your mouth. 
Invisalign® can be an inconspicuous treatment option to attain a straighter smile and a healthier bite. For more information on finding the best orthodontic treatment for your needs, please contact Scripps Center for Dental Care to schedule a consultation.
Contact Us Today!
For more information, or if you with to schedule a consultation, please don't hesitate to contact our office today.
Contact Us