Tooth Sensitivity after Teeth Whitening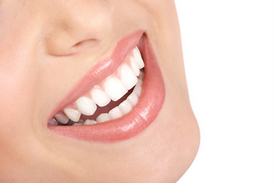 If you have teeth that are stained or discolored, it's important that you consider undergoing teeth whitening treatment. Teeth whitening will be able to enhance the overall brightness and whiteness of your smile if it's been stained as a result of smoking, foods, beverages, or other substances. In some cases, a single treatment may be able to brighten a smile by several whole shades.
Tooth Sensitivity
With this in mind, though, there is a somewhat common issue that we hear from our San Diego cosmetic dentistry patients: after undergoing teeth whitening, they experience tooth sensitivity. At the Scripps Center for Dental Care, we will work to ensure that any tooth sensitivity you experience is minor. With this in mind, though, we'd like to look at why tooth sensitivity occurs and what can be done about it.
The main reason that teeth are sensitive after teeth whitening is that the whitening agent affects the microscopic tubules that are located on each tooth, These tubules are linked to the dental pulp and nerves within the tooth, meaning that teeth whitening makes these tubules acutely sensitive. For this reason, after San Diego teeth whitening here are Scripps Center for Dental Care, we can administer a tooth desensitizer after treatment to reduce any discomfort you may feel.
How to Reduce Tooth Sensitivity
There are number of things you can do on your own to reduce the level of tooth sensitivity you experience. For one, you can drink lukewarm fluids rather than cold ones. This will help prevent a sudden and acute moment of discomfort. When brushing your teeth, be sure to use a toothbrush that has soft bristles and to gargle with lukewarm water.
Since not all teeth whitening takes place in the office, you need to follow the instructions of your whitening kit. The over-the-counter kits and professional-grade whitening kits have specific guidelines for how much bleaching gel should be used and how long the teeth should be treated. Disobeying the instructions can lead to major tooth sensitivity. Please be aware of that.
Contact Us Today!
So if you have stained teeth and would like to enhance the overall appearance of your smile, be sure to contact our La Jolla dental care center today. We look forward to meeting with you and helping you get the smile of your dreams.
Contact Us