What Can All-on-4® Do For My Smile?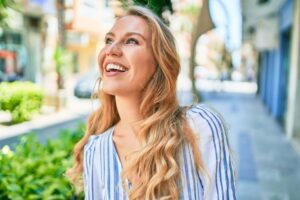 It's not uncommon for individuals who have dentures to feel self-conscious about their smile, especially if their dentures often slip in and out of place. This lack of security is one of the primary reasons why patients seek out implant dentures — an upgrade to traditional removable dentures that doesn't require messy pastes and adhesives. Rather than being attached to the gums with paste, implant dentures are permanently affixed to the jawbone. For certain patients, the All-on-4® technique can enhance the implant dentures process even further by replacing the upper and lower dental arches using only four to six implants. In addition to regaining a healthy bite, All-on-4® can offer many benefits to your smile, including:
Restoring the proportions of full, youthful teeth
Retaining bone volume, thereby preventing changes to your facial shape caused by jawbone recession
Reclaiming function, allowing you to feel more confident when eating and speaking
Allowing your dentures to look and feel like a natural part of your mouth
Many patients affected by widespread tooth loss can reclaim the form and function of their teeth with All-on-4®, but the technique may not be right for everyone. Our compassionate dentists at Scripps Dental Care are committed to developing the ideal treatment plan for each patient's unique needs, and we would be happy to discuss your concerns to determine the best tooth replacement for you.
Living with entire rows of missing teeth can be extremely debilitating, but All-on-4® offers an innovative solution to rehabilitate your smile with less bone volume required than other restorative treatments. This complex process involves specialists from multiple fields of dentistry, which is why our multidisciplinary dental team completes the entire procedure in-house at our San Diego practice. Contact Scripps Dental Care for more information about All-on-4® or to schedule a consultation.
Contact Us Today!
For more information, or if you with to schedule a consultation, please don't hesitate to contact our office today.
Contact Us