Does Wearing Dentures Affect Nutrition?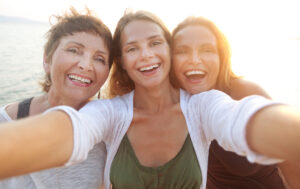 Dentures are sets of artificial teeth designed to replace the entirety of the upper and/or lower dental arches. These prostheses have been utilized for decades and are often considered a go-to technique to resolve the dental needs of seniors and adults with widespread tooth loss. While removable dentures can indeed restore a patient's smile and ability to bite, recent studies have indicated that the limitations presented by these restorations may have consequences on one's nutritional health.
Since dentures are traditionally fastened to the gums with dental pastes, the potential for gum slippage and irritation when chewing food can be high. In turn, many individuals who wear dentures opt to consume softer foods that require less mastication, such as mashed potatoes, pasta, and casseroles. These meals are often higher in cholesterol and fat content, leading to reduced intake of healthier ingredients. Many nutrient-rich foods—including meats, vegetables, and salads—are crunchier and tougher to chew, so patients with insecure and ill-fitting dentures may be inadvertently avoiding the meals that provide the most nutritional value.
Upgrading to implant-supported restorations can be a highly effective solution to the health concerns presented by removable dentures. Unlike prostheses that rely on adhesives to remain in place, implant dentures are surgically anchored to the jawbone to help ensure the highest level of security possible. This can largely reduce, or even completely eliminate, the possibility of gum slippage, allowing patients with implant-affixed dentures to enjoy a nutrient-rich and unrestricted diet.
While missing teeth can cause a range of oral and general health problems, a consultation with our friendly dentists may be the first step towards rebuilding your smile and oral wellness. Contact our multispecialty dental practice today to receive the care you deserve from one all-encompassing location.
Contact Us Today!
For more information, or if you with to schedule a consultation, please don't hesitate to contact our office today.
Contact Us