How to Treat Recessed Gums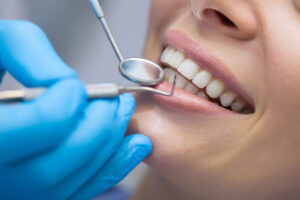 Gum recession refers to when the pink, soft tissue at the base of the teeth begins to retreat, potentially exposing the tooth roots to damage. This condition can develop at any age, although receding tissue is especially prevalent among patients over the age of 65. While some gum loss over time may not sound like an urgent concern, gum recession can lead to painful and serious symptoms, including the shifting of teeth, bleeding gums, sensitivity to hot or cold, and an increased risk of tooth loss. 
In some cases, early or mild gum recession does not require formal treatment and improves with at-home care, such as good oral hygiene, gentle brushing techniques, and a soft-bristled toothbrush. However, more advanced gum recession often requires an oral procedure to restore protection for the tooth roots. 
Regardless of the severity of your case, treatment to repair the gums should be performed by a board-certified periodontist. At our multispecialty practice, periodontist and oral surgeon Erez Nosrati, DMD is a certified provider of the Pinhole® Surgical Technique (PST) — a revolutionary procedure that can lengthen the gums using a less invasive approach than traditional gum recession treatments. Unlike past methods which utilized scalpels and sutures, PST offers substantial benefits, such as: 
No cutting or tissue grafts
Less bleeding
Greater patient comfort
Minimal recovery time
The Pinhole® Surgical Technique can lift and expand the gums through just a tiny pinhole made near the affected tooth. The soft tissue is then re-draped over the tooth roots, and collagen strips are placed to further rejuvenate the gums. The mouth is typically able to heal overnight, allowing patients to reclaim a clean and healthy smile. 
Questions? Please contact Scripps Center for Dental Care to learn more about gum disease treatment options or to schedule a consultation with one of our dental specialists.
Contact Us Today!
For more information, or if you with to schedule a consultation, please don't hesitate to contact our office today.
Contact Us