Dental Care for Children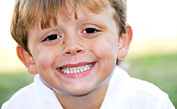 When it comes to helping patients achieve the best possible dental health and appearance, it's important for a cosmetic dentist to consider the unique dental health needs that are related to the patient's age. You see, different age groups have certain needs that should be addressed in order to maintain good dental health in the now and achieve excellent dental health in the long run.
We'd like to take a moment to focus on the unique dental health needs of children and why these are so crucial to lasting dental health.
Why Pediatric Dental Care Is So Important
By providing proper dental care treatments at an early age, patients will be able to have good and lasting dental health for years to come. That means into the teenage years, through adulthood, and all the way into the golden years. It all starts in childhood, during which time a number of dental problems may be easier to address.
Patient Education and Building Trust
One of the most important things that a cosmetic and restorative dentistry center can do for young patients is establish trust in members of the dental care profession and help patients learn why good dental health is so important. For one, this will prevent issues with dental phobia later in life. In addition, stressing the importance of brushing, flossing, and regular checkups will help prevent tooth decay and gum disease.
Dental Care for Babies and Toddlers
Many parents don't realize just how important it can be for their teething baby or toddler to go to the dentist. This is actually a great time to start. Dental health professionals can give parents some helpful pointers when it comes to addressing thumbsucking, baby bottles, and much more.
Basic Care and Meeting Basic Needs
One of the keys to proper children's dentistry treatments is providing general dental care services. That means routine cleanings, diagnostics, fluoride treatments, and so on. This will help young patients have healthy teeth that look great as well.
Restorative Care for Lasting Wellness
Tooth decay and tooth damage are serious problems whether they befall baby teeth or permanent teeth. That's why it's not uncommon for family dentists to use composite fillings to help restore the teeth of young patients.
Pediatric Orthodontics for Improved Dental Health Down the Road
Many issues with malocclusion and overall dental alignment are easier to address in young patients than they are in adults. For that reason, pediatric orthodontics is a great option to consider. This may involve braces, spacers, headgear, or other appliances that will address issues with overall bite straightness.
Establishing Good Habits That Last a Lifetime
It'll be imperative for our dental care team to help you child establish the kinds of dental health habits that will help maintain overall wellness for the rest of their lives. That means brushing at least twice a day, flossing at least every night, and visiting the dentist twice a year for regular checkups and maintenance.
Learn More About Family Dentistry
For more information about pediatric dental health many other other important issues related to advanced dentistry for the entire family, be sure to contact our La Jolla dental care center today. Our entire team looks forward to meeting you in person and helping you achieve optimal dental health in the process.
Contact Us