Dr. Weston makes the cover for the Journal of Cosmetic Dentistry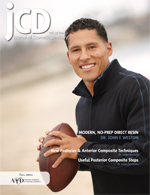 Dr. Weston and his patient were selected for the cover of the Journal of Cosmetic Dentistry (JCD). This is the American Academy of Cosmetic Dentistry's (AACD) world wide publication! A full manuscript of the cover case is included in this prestigious, peer reviewed journal detailing all of the aspects of the direct bonding veneers created for Robert. The JCD is a well known magazine distributed to all of the AACD members, affiliates and partner organizations that include over 70 countries. To learn more about Dr. Weston or other cosmetic procedures, go to www.scrippsdentalcare.com.
Contact Us Today!
For more information, or if you wish to schedule a consultation, please don't hesitate to contact our office today.
Contact Us