Are Mail-Order Braces Safe?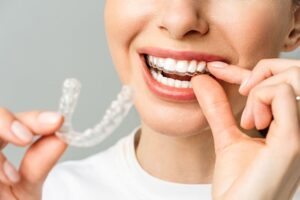 With the broad range of orthodontic systems available on the market, patients now have more options than ever when it comes to straightening crooked or crowded teeth. In recent years, mail-order braces have gained popularity as a potential alternative to treatment with conventional braces overseen by an orthodontist. These "DIY braces" are directly shipped to individuals in the mail, canceling the need for dental appointments as well as management of your treatment by a qualified dental professional. Needless to say, the lack of customized care and supervision by a trained orthodontist can make mail-order braces an ineffective orthodontic system at best, and downright harmful at worst. 
First, it's important to understand that orthodontic treatments work by realigning the jaws, thereby shifting the periodontal membrane and correcting your bite. This requires x-ray exams, as well as impressions of the teeth and gums, to properly reposition the teeth into a healthier alignment. Since mail-order braces do not involve a dentist who personally evaluates your bite and diagnoses your orthodontic concerns, mail-order braces are not considered a safe way to straighten your smile. In fact, these systems can be dangerous in the following ways: 
No supervision during your treatment to ensure your teeth are achieving a proper alignment
Your teeth may end up worse after using mail-order aligners than before your treatment
There's no pre-treatment exam to identify other oral health concerns that should be addressed before getting braces or aligners
Treatment with braces and Invisalign® aligners should always be conducted by an experienced dentist or orthodontist to safeguard your smile, oral health, and appearance. There are several orthodontic systems that can straighten your teeth and our talented team of dental specialists are committed to finding the best treatment for your needs. Don't hesitate to contact Scripps Center for Dental Care for more information or to schedule an initial consultation. 
Contact Us Today!
For more information, or if you with to schedule a consultation, please don't hesitate to contact our office today.
Contact Us