Award-Winning La Jolla Dentists Offer Relief for Dental Anxiety with Tailored Sedation Dentistry Techniques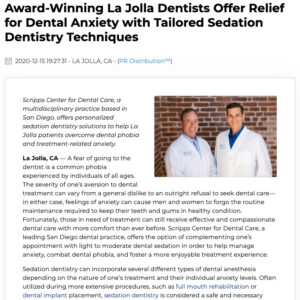 Scripps Center for Dental Care, a multidisciplinary practice based in San Diego, offers personalized sedation dentistry solutions to help La Jolla patients overcome dental phobia and treatment-related anxiety.
La Jolla, CA — A fear of going to the dentist is a common phobia experienced by individuals of all ages. The severity of one's aversion to dental treatment can vary from a general dislike to an outright refusal to seek dental care—in either case, feelings of anxiety can cause men and women to forgo the routine maintenance required to keep their teeth and gums in healthy condition. Fortunately, those in need of treatment can still receive effective and compassionate dental care with more comfort than ever before. Scripps Center for Dental Care, a leading San Diego dental practice, offers the option of complementing one's appointment with light to moderate dental sedation in order to help manage anxiety, combat dental phobia, and foster a more enjoyable treatment experience.
Sedation dentistry can incorporate several different types of dental anesthesia depending on the nature of one's treatment and their individual anxiety levels. Often utilized during more extensive procedures, such as full mouth rehabilitation or dental implant placement, sedation dentistry is considered a safe and necessary component of every dental practice by the American Dental Association (ADA). Based on a patient's unique needs, the experienced team at Scripps Center for Dental Care can perform treatment with the assistance of nitrous oxide ("laughing gas"), oral-conscious sedation, or general anesthesia.
Both nitrous oxide and oral-conscious sedation can allow patients to remain conscious, yet relaxed, while their dentist completes the necessary dental work for an anxiety-free appointment. On the other hand, general anesthesia—also referred to as "sleep dentistry"—places patients in a controlled state of unconsciousness while they are monitored by a board-certified oral surgeon or dental anesthesiologist. All three methods of sedation offer a low chance of potential complications when administered by a qualified dentist.
As dental professionals who are board-certified, as well as accredited by the Dental Organization for Conscious Sedation (DOCS), the team at Scripps is pleased to offer patients relief from their dental anxiety through these customized sedation techniques. By offering sedation-assisted dental treatments, the dentists feel they are better able to effectively provide patient-focused care for those who dread going to the dentist.
About Scripps Center for Dental Care
Scripps Center for Dental Care is a multi-specialty practice based in the La Jolla area of San Diego, California. The team at Scripps is encompassed by dentists from every dental specialty—including orthodontics, prosthodontics, oral surgery, periodontics, and cosmetic dentistry—who are each board-certified in their respective fields. As one of the only practices in Southern California that houses two accredited members of the American Academy of Cosmetic Dentistry (AACD), Scripps Center for Dental Care was featured in San Diego® magazine's list of "Top Dentists" in the region and has obtained a number of other awards and recognitions. Dr. John Weston and Dr. Nicholas Marongiu are available for interview upon request.
To learn more, please visit scrippsdentalcare.com or facebook.com/scrippsdentalcare.
Contact:
Scripps Center for Dental Care
XIMED Building
9850 Genesee Avenue, Suite #620
La Jolla, CA 92037
(858) 535-8300
Rosemont Media
(858) 200-0044
www.rosemontmedia.com
Contact Us Today!
For more information, or if you with to schedule a consultation, please don't hesitate to contact our office today.
Contact Us