Dr. Weston's Evy Award
The AACD was thrilled to honor some of its most accomplished and dedicated professionals with Evy Awards during the Celebration of Excellence Gala Reception on April 30th at the 32nd Annual AACD Scientific Session in Toronto.
The AACD Celebration of Excellence Award statuette has been dubbed "The Evy", in honor of the late Dr. Jeffrey Golub-Evans, who was the creative force behind the award's design.
Evy recipients are first nominated for the award by their colleagues and then are selected by the Awards and Recognition Committee. Evy award winners represent the most exemplary and talented individuals within the AACD and the industry who are dedicated to advancing excellence in the art and science of cosmetic dentistry and to the highest standards of ethical patient care.
One of the 2016 Evy recipients and their awards were as follows: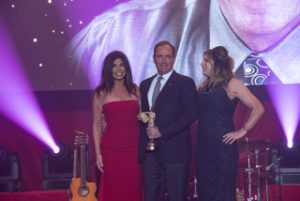 Dr. Weston advances the art and science of cosmetic dentistry as a dependable presence at the lectern, having lectured and instructed workshops at every AACD scientific session since 2006. He has served two terms as a chairman of the Professional Education Committee for the AACD's annual Scientific Session, and as an Accredited Fellow, he continues to volunteer his time and expertise to mentor colleagues who are attempting to earn their AACD credentials.
Contact Us Today!
For more information, or if you wish to schedule a consultation, please don't hesitate to contact our office today.
Contact Us