Highlights of the AACD 2018 Scientific Session with Dr. Nick and Dr. Weston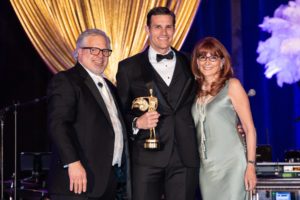 Each year, our AACD-accredited cosmetic dentists attend the annual American Academy of Cosmetic Dentistry Scientific Session to advance their understanding of the latest techniques and technology and to share their knowledge of best practices and patient care. The 2018 conference, held in Chicago, provided an ideal backdrop for Dr. John Weston and Dr. Nick Marongiu to participate in a wide range of entertaining and informative opportunities among other leaders in the dental field.
As referenced in our previous blog post on the 2018 AACD Scientific Session, this prestigious meeting is for AACD-accredited dental professionals. Only a small percentage of dentists can achieve accreditation, which requires extensive training, commitment to continuing education, and dedication to patient care and results.
In addition to reaffirming long-standing relationships and forging new ones, Dr. Weston and Dr. Nick had the chance to explore an exciting program of events, including discussion of how to manage complex cases and an introduction to the latest trends in cosmetic dentistry. In the exhibitors arena, our experienced dentists enjoyed the opportunity to listen to presentations on innovative products, network over lunch and cocktails, and even participate in trivia.
Once again, the AACD annual conference was a complete success, and our dentists are eager to apply their updated knowledge in an office setting. For more information about the events of the AACD and our dentists' participation in the meeting, please contact our practice with any questions.
Contact Us Today!
For more information, or if you with to schedule a consultation, please don't hesitate to contact our office today.
Contact Us