La Jolla Multi-Specialty Dental Practice Recognized Among San Diego® Magazine's List of "Top Dentists"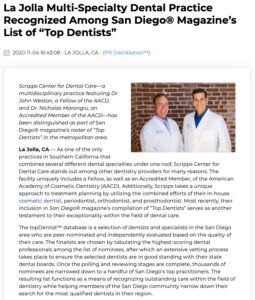 Scripps Center for Dental Care—a multidisciplinary practice featuring Dr. John Weston, a Fellow of the AACD, and Dr. Nicholas Marongiu, an Accredited Member of the AACD—has been distinguished as part of San Diego® magazine's roster of "Top Dentists" in the metropolitan area.
La Jolla, CA — As one of the only practices in Southern California that combines several different dental specialties under one roof, Scripps Center for Dental Care stands out among other dentistry providers for many reasons. The facility uniquely includes a Fellow, as well as an Accredited Member, of the American Academy of Cosmetic Dentistry (AACD). Additionally, Scripps takes a unique approach to treatment planning by utilizing the combined efforts of their in-house cosmetic dentist, periodontist, orthodontist, and prosthodontist. Most recently, their inclusion in San Diego® magazine's compilation of "Top Dentists" serves as another testament to their exceptionality within the field of dental care.
The topDentist™ database is a selection of dentists and specialists in the San Diego area who are peer-nominated and independently evaluated based on the quality of their care. The finalists are chosen by tabulating the highest-scoring dental professionals among the list of nominees, after which an extensive vetting process takes place to ensure the selected dentists are in good standing with their state dental boards. Once the polling and reviewing stages are complete, thousands of nominees are narrowed down to a handful of San Diego's top practitioners. The resulting list functions as a means of recognizing outstanding care within the field of dentistry while helping members of the San Diego community narrow down their search for the most qualified dentists in their region.
Dr. John Weston, DDS, FAACD and Dr. Nicholas Marongiu, DDS, AACD, as well as the entire team of specialists at Scripps Center for Dental Care, are honored by their recognition in San Diego® magazine. They feel their collaborative approach allows the practice to extend the highest caliber of patient care, regardless of whether one is in need of a routine check-up, dental implants, porcelain veneers, a smile makeover, or emergency dental treatment.
About Scripps Center for Dental Care
Scripps Center for Dental Care is a La Jolla-based practice that houses a variety of dental specialties in one all-encompassing location, including family and preventive dentistry, cosmetic treatments, periodontics, prosthodontics, orthodontics, oral surgery, and more. With a team of leaders from every field of dentistry who are each certified in their respective fields, the practice offers a "one-stop" shop for patients to address all of their dental needs. Scripps Center for Dental Care is among the only dental facilities in the region with a multidisciplinary team and numerous AACD-accredited dentists, allowing them to provide uniquely specialized care for individuals in and around San Diego. Dr. John Weston and Dr. Nicholas Marongiu are available for interview upon request.
To learn more, please visit scrippsdentalcare.com or facebook.com/scrippsdentalcare.
Contact:
Scripps Center for Dental Care
XIMED Building
9850 Genesee Avenue, Suite #620
La Jolla, CA 92037
(858) 535-8300
Rosemont Media
(858) 200-0044
www.rosemontmedia.com
Contact Us Today!
For more information, or if you with to schedule a consultation, please don't hesitate to contact our office today.
Contact Us