Multispecialty Dental Team in La Jolla Offers One-Stop Shop for Smile Reconstruction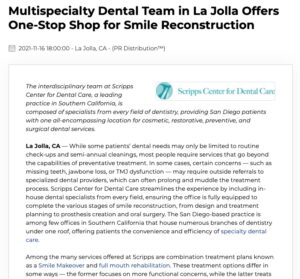 The interdisciplinary team at Scripps Center for Dental Care, a leading practice in Southern California, is composed of specialists from every field of dentistry, providing San Diego patients with one all-encompassing location for cosmetic, restorative, preventive, and surgical dental services.
La Jolla, CA — While some patients' dental needs may only be limited to routine check-ups and semi-annual cleanings, most people require services that go beyond the capabilities of preventative treatment. In some cases, certain concerns — such as missing teeth, jawbone loss, or TMJ dysfunction — may require outside referrals to specialized dental providers, which can often prolong and muddle the treatment process. Scripps Center for Dental Care streamlines the experience by including in-house dental specialists from every field, ensuring the office is fully equipped to complete the various stages of smile reconstruction, from design and treatment planning to prosthesis creation and oral surgery. The San Diego-based practice is among few offices in Southern California that house numerous branches of dentistry under one roof, offering patients the convenience and efficiency of specialty dental care.
Among the many services offered at Scripps are combination treatment plans known as a Smile Makeover and full mouth rehabilitation. These treatment options differ in some ways — the former focuses on more functional concerns, while the latter treats more cosmetic dental needs — but both services similarly highlight the benefits of a multispecialty dental team. With any smile reconstruction, the process is usually completed in stages, often requiring some mix of orthodontic treatment, restorations, and/or cosmetic solutions. Having the necessary dental specialists under one roof can not only simplify treatment planning, but also allows patients to achieve their new smile faster than they would if outside referrals were necessary. In turn, the dentists at Scripps take great pride in their ability to provide patients with a higher standard of care resulting from their collaborative approach.
While it can be difficult to envision the potential results of such collective treatment planning, Scripps also utilizes advanced Digital Smile Design software that can offer patients a virtual preview of what their new smile could look like before the beginning of any treatment. With the notable technology and continuity of care afforded by the practice, patients can feel confident knowing Scripps Center for Dental Care is well-equipped to achieve their goals, no matter how complex they may be.
About Scripps Center for Dental Care
Based in the La Jolla region of San Diego, Scripps Center for Dental Care offers the full spectrum of cosmetic, restorative, and family dentistry services. Each dentist at Scripps subspecializes in a given branch of dentistry — such as prosthodontics, periodontics, orthodontics, oral surgery, and cosmetic dentistry — and is board-certified in their respective fields. Dr. John Weston and Dr. Nicholas Marongiu have also achieved additional accreditation by the American Academy of Cosmetic Dentistry (AACD), with Dr. Weston serving as a Fellow of the AACD — the highest distinction possible in cosmetic dentistry. The team at Scripps Center for Dental Care is regularly recognized as "Top Doctors" in San Diego® magazine and has authored numerous articles in the AACD's Journal of Cosmetic Dentistry. Dr. John Weston and Dr. Nicholas Marongiu are available for interview upon request.
To learn more, please visit scrippsdentalcare.com or facebook.com/scrippsdentalcare.
Contact:
Scripps Center for Dental Care
XIMED Building
9850 Genesee Avenue, Suite #620
La Jolla, CA 92037
(858) 535-8300
Rosemont Media
(800) 491-8623
www.rosemontmedia.com
Contact Us Today!
For more information, or if you with to schedule a consultation, please don't hesitate to contact our office today.
Contact Us