San Diego Cosmetic Dentists Outline Treatments to Reclaim a More Youthful Look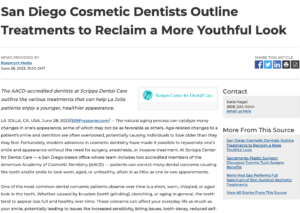 The AACD-accredited dentists at Scripps Dental Care outline the various treatments that can help La Jolla patients enjoy a younger, healthier appearance.
La Jolla, CA — The natural aging process can catalyze many changes in one's appearance, some of which may not be as favorable as others. Age-related changes to a patient's smile and dentition are often overlooked, potentially causing individuals to look older than they may feel. Fortunately, modern advances in cosmetic dentistry have made it possible to rejuvenate one's smile and appearance without the need for surgery, anesthesia, or invasive treatment. At Scripps Center for Dental Care — a San Diego-based office whose team includes two accredited members of the American Academy of Cosmetic Dentistry (AACD) — patients can correct many dental concerns causing the teeth and/or smile to look worn, aged, or unhealthy, often in as little as one to two appointments.
One of the most common dental concerns patients observe over time is a short, worn, chipped, or aged look in the teeth. Whether caused by bruxism (teeth grinding), clenching, or aging in general, the teeth tend to appear less full and healthy over time. These concerns can affect your everyday life as much as your smile, potentially leading to issues like increased sensitivity, biting issues, tooth decay, reduced self-confidence, and even digestive problems. Unfortunately, the loss of self-esteem associated with aging or unhealthy teeth may result in negative impacts to one's social, professional, and interpersonal life. There are many treatments to restore a worn tooth to more youthful proportions, including porcelain veneers, prepless veneers, and aesthetic restorations. Depending on the nature of your concerns, veneers can be an enduring and natural-looking solution to improve shortness, gaps, and other cosmetic deficiencies in the tooth structure. Porcelain veneers in particular can even address severe discoloration resistant to whitening, such as tetracycline stains. This often provides benefits to not only the affected tooth, but also a patient's entire smile. 
Unbalanced proportions between the teeth and mouth can also create an aged look, especially when individuals have a dominant gumline — commonly referred to as a "gummy smile." Gum reshaping is a laser-based treatment designed to improve the gum-to-tooth ratio, increasing "tooth show" and achieving a more symmetrical smile. Other asymmetries in the teeth, such as crowding, misalignments, and malocclusion (poor bite), can also be addressed with cosmetic solutions like Invisalign® clear aligners — a less obtrusive and more comfortable treatment than traditional metal braces. 
Finally, the teeth naturally discolor over time due to aging, as well as the years-long buildup of staining agents on the enamel. Teeth whitening can offer a quick, convenient, and in-office treatment to lighten the teeth by several shades at once. Scripps offers both in-office and at-home professional whitening solutions to lift deep discoloration and restore a bright, luminous, and youthful smile. 
It's important to note that these treatments can even be combined and personalized for a full Smile Makeover, if desired. When asked about the importance of loving one's smile, Dr. Nicholas Marongiu — an accredited member of the AACD — emphasizes the transformative nature of achieving your dream smile. "Having a new smile is something many of [our] patients have always wanted… Your smile is something that affects you each and every day, both functionally and visually. Even after years of treating patients, I am still amazed at the transformational power of a new or upgraded smile. We are not just changing smiles, but often we are changing lives for the patients we treat," he comments.
About Scripps Center for Dental Care
Based in the La Jolla region of San Diego, Scripps Center for Dental Care offers patients the entire spectrum of cosmetic, restorative, and family dental care. Scripps Center for Dental Care is one of the only dental offices in Southern California whose team includes two cosmetic dentists accredited by the American Academy of Cosmetic Dentistry (AACD). In addition to their AACD-accredited cosmetic dentists, the Scripps team is composed of specialists from every field of dentistry, such as orthodontics, periodontics, endodontics, prosthodontics, and oral surgery, among other disciplines. This allows patients a seamless and collaborative treatment process without the need for outside referrals. Scripps Center for Dental Care utilizes modern dental technology to prioritize the comfort of La Jolla patients, including sedation dentistry, digital x-rays and impressions, Digital Smile Design (DSD), and other state-of-the-art software as part of their treatment offerings. Dr. John Weston and Dr. Nicholas Marongiu are available for interview upon request. 
To learn more, please visit scrippsdentalcare.com, facebook.com/scrippsdentalcare, or @scrippscenterfordentalcare on Instagram.
Contact:
Scripps Center for Dental Care
XIMED Building
9850 Genesee Avenue, Suite #620
La Jolla, CA 92037
(858) 535-8300
Rosemont Media
(858) 200-0044
www.rosemontmedia.com
Contact Us Today!
For more information, or if you with to schedule a consultation, please don't hesitate to contact our office today.
Contact Us