San Diego Dentists Explain How to Find the Best Cosmetic Dentist for You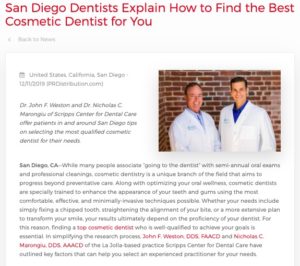 Dr. John F. Weston and Dr. Nicholas C. Marongiu of Scripps Center for Dental Care offer patients in and around San Diego tips on selecting the most qualified cosmetic dentist for their needs.
San Diego, CA—While many people associate "going to the dentist" with semi-annual oral exams and professional cleanings, cosmetic dentistry is a unique branch of the field that aims to progress beyond preventative care. Along with optimizing your oral wellness, cosmetic dentists are specially trained to enhance the appearance of your teeth and gums using the most comfortable, effective, and minimally-invasive techniques possible. Whether your needs include simply fixing a chipped tooth, straightening the alignment of your bite, or a more extensive plan to transform your smile, your results ultimately depend on the proficiency of your dentist. For this reason, finding a top cosmetic dentist who is well-qualified to achieve your goals is essential. In simplifying the research process, John F. Weston, DDS, FAACD and Nicholas C. Marongiu, DDS, AAACD of the La Jolla-based practice Scripps Center for Dental Care have outlined key factors that can help you select an experienced practitioner for your needs.
First and foremost, the experience of a cosmetic dentist is a major consideration that should help patients narrow down their choice of dental provider. That said, membership to the American Academy of Cosmetic Dentistry (AACD) can be a very telling indication of the breadth of a prospective dentist's training, as well as their ability to keep up-to-date with a constantly evolving field. If possible, it is generally in your best interest to select a dentist who maintains Fellowship or Accreditation with the AACD, which are credentials that go well beyond membership and are among the highest honors that can be achieved in the field of cosmetic dentistry. As AACD-accredited dentists themselves, Dr. Weston and Dr. Marongiu note that the rigorous training required during the accreditation process often allows them to provide a higher standard of care when compared to those who are not certified by the AACD. This offers considerable benefits to patients of Scripps Center for Dental Care, which is among one of the only practices in the Southern California region to include two AACD-certified dentists and a multispecialty team.
The next factor to consider when choosing a cosmetic dentist is your needs. More often than not, treatments like dental implants, porcelain veneers, and smile makeovers require a comprehensive dental team of periodontists, orthodontists, prosthodontists, and endodontists to produce the best possible outcomes. According to Drs. Weston and Marongiu, their practice fosters collaboration among their team of dental specialists to provide focused care for a diverse range of patient needs. "Our practice was built on a foundation of providing the highest-quality service combined with true multispecialty care—all in the same practice," Dr. Marongiu comments. Given the superior quality of results afforded by this full team approach, Dr. Weston and Dr. Marongiu implore patients to select a practice with a variety of dental professionals on staff so their every need can be addressed by a qualified practitioner with specialized experience in whatever treatment may be necessary to achieve their goals.
A cosmetic dentist's reputation and the quality of their care are also factors to keep in mind while you navigate the selection process. Online reviews and before-and-after photos can be very useful tools to help you learn about a dentist's reputation, the environment at their practice, and what can be achieved with one's treatment-of-interest. Drs. Weston and Marongiu stress the importance of choosing a cosmetic dentist who you can feel comfortable with and who has a good track record of maintaining high levels of patient satisfaction. Since reviews and smile galleries are often subjective in nature, they also suggest scheduling a consultation with a prospective dentist so you can ask them any questions you may have about their qualifications, training, or treatment options, as well as to gain a better idea of how you feel under their care.
Dr. Weston and Dr. Marongiu understand that "shopping around" for the right dental provider is often overwhelming, but they hope the above can help patients gain a more thorough understanding of what to look for in a cosmetic dentist.
About John F. Weston, DDS, FAACD
Dr. John Weston is a Fellow of the American Academy of Cosmetic Dentistry, as well as an experienced cosmetic dentist at Scripps Center for Dental Care. As one of less than 100 dentists around the world who is an Accredited Fellow of AACD, Dr. Weston is thoroughly involved in the teaching and research of the latest cosmetic dentistry techniques. He has served two terms as the Chairman of the Professional Education Committee for the AACD's Annual Scientific Session and belongs to an array of respected organizations, including the American Dental Association, California Dental Association, and the San Diego County Dental Society. Dr. Weston is available for interview upon request.
About Nicholas C. Marongiu, DDS, AACD
Dr. Nicholas Marongiu is an Accredited Member of the AACD and practices among the cosmetic, general, and restorative dentists at Scripps Center for Dental Care. As a highly accomplished cosmetic dentist, Dr. Marongiu serves on several peer-reviewed research boards and belongs to the American Dental Association, California Dental Association, San Diego County Dental Society, and the Academy of General Dentistry, among other organizations. In addition to his work at Scripps Center for Dental Care and his professional memberships, Dr. Marongiu has hospital privileges at Scripps Memorial Hospital and serves as adjunct faculty at the University of California San Diego School of Medicine. Dr. Marongiu is available for interview upon request.
To learn more, please visit scrippsdentalcare.com or facebook.com/scrippsdentalcare.
Contact:
Scripps Center for Dental Care
XIMED Building
9850 Genesee Avenue, Suite #620
La Jolla, CA 92037
(858) 535-8300
Rosemont Media
(858) 200-0044
www.rosemontmedia.com
Contact Us Today!
For more information, or if you with to schedule a consultation, please don't hesitate to contact our office today.
Contact Us