San Diego Dentists Place Dental Implants Completely In-House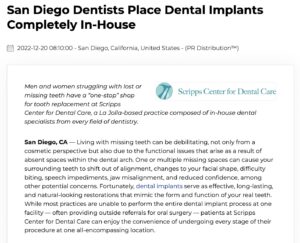 Men and women struggling with lost or missing teeth have a "one-stop" shop for tooth replacement at Scripps Center for Dental Care, a La Jolla-based practice composed of in-house dental specialists from every field of dentistry.
San Diego, CA — Living with missing teeth can be debilitating, not only from a cosmetic perspective but also due to the functional issues that arise as a result of absent spaces within the dental arch. One or multiple missing spaces can cause your surrounding teeth to shift out of alignment, changes to your facial shape, difficulty biting, speech impediments, jaw misalignment, and reduced confidence, among other potential concerns. Fortunately, dental implants serve as effective, long-lasting, and natural-looking restorations that mimic the form and function of your real teeth. While most practices are unable to perform the entire dental implant process at one facility — often providing outside referrals for oral surgery — patients at Scripps Center for Dental Care can enjoy the convenience of undergoing every stage of their procedure at one all-encompassing location.
Scripps Center for Dental Care offers cosmetic, restorative, and family dental services for individuals in and around San Diego. Composed of a multispecialty team of cosmetic dentists, periodontists, orthodontists, prosthodontists, and oral surgeons, Scripps offers specialty dental care for all of their patients' unique needs. This means those in need of a tooth replacement only have to visit one location for every phase of the dental implant process, from the initial consultation to surgery to creation of their custom-crafted restoration. For those who need to replace more than one tooth, treatment with implant-supported bridges and implant dentures can also be completed at this "one-stop shop."
The team at Scripps Center for Dental Care is thrilled to offer patients a more convenient and stress-free experience on their journeys to obtaining a healthy and beautiful smile. By having multiple in-house dental professionals from a range of dental specialties, the practice is able to provide an uninterrupted and patient-focused continuity of care.
About Scripps Center for Dental Care
Scripps Center for Dental Care is a longtime provider of cosmetic, reconstructive, and family dental treatments in the La Jolla neighborhood of San Diego. Their services include popular treatments like porcelain veneers, dental implants, and Invisalign®, as well as routine dental exams and more advanced care involving periodontal disease treatment, TMJ disorder, and sleep apnea. The multidisciplinary team at Scripps Center for Dental Care is composed of dental professionals from every field of dentistry, offering the highest quality of care for a wide range of patient needs. Scripps Center for Dental Care is available for interview upon request.
To learn more, please visit scrippsdentalcare.com, facebook.com/scrippsdentalcare, or @scrippscenterfordentalcare on Instagram.
Contact:
Scripps Center for Dental Care
XIMED Building
9850 Genesee Avenue, Suite #620
La Jolla, CA 92037
(858) 535-8300
Rosemont Media
(800) 491-8623
www.rosemontmedia.com
Contact Us Today!
For more information, or if you with to schedule a consultation, please don't hesitate to contact our office today.
Contact Us