San Diego Multispecialty Dentists Perform Full Mouth Reconstruction Completely In-House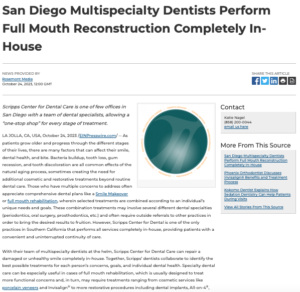 Scripps Center for Dental Care is one of few offices in San Diego with a team of dental specialists, allowing a "one-stop shop" for every stage of treatment.
La Jolla, CA — As patients grow older and progress through the different stages of their lives, there are many factors that can affect their smile, dental health, and bite. Bacteria buildup, tooth loss, gum recession, and tooth discoloration are all common effects of the natural aging process, sometimes creating the need for additional cosmetic and restorative treatments beyond routine dental care. Those who have multiple concerns to address often appreciate comprehensive dental plans like a Smile Makeover or full mouth rehabilitation, wherein selected treatments are combined according to an individual's unique needs and goals. These combination treatments may involve several different dental specialties (periodontics, oral surgery, prosthodontics, etc.) and often require outside referrals to other practices in order to bring the desired results to fruition. However, Scripps Center for Dental is one of the only practices in Southern California that performs all services completely in-house, providing patients with a convenient and uninterrupted continuity of care.
With their team of multispecialty dentists at the helm, Scripps Center for Dental Care can repair a damaged or unhealthy smile completely in-house. Together, Scripps' dentists collaborate to identify the best possible treatments for each person's concerns, goals, and individual dental health. Specialty dental care can be especially useful in cases of full mouth rehabilitation, which is usually designed to treat more functional concerns and, in turn, may require treatments ranging from cosmetic services like porcelain veneers and Invisalign® to more restorative procedures including dental implants, All-on-4®, and dental crowns.
Ultimately, a multidisciplinary team of dentists can help streamline the treatment process, allowing individuals to achieve their dream smile faster than a typical timeline in which referrals to outside specialists are necessary. Furthermore, the dentists at Scripps also provide sedation dentistry options for individuals who are undergoing longer procedures, or who are apprehensive about their upcoming appointment. By offering San Diego patients in-house care for all of their dental needs, Scripps Center for Dental Care takes pride in making even the most complex treatments as easy, convenient, and accessible as possible.
About Scripps Center for Dental Care
Based in La Jolla, Scripps Center for Dental Care has provided cosmetic, restorative, and family dentistry services for San Diego patients for years. With a team of specialists from every field of dentistry — including periodontics, orthodontics, cosmetic dentistry, and prosthodontics — the practice is fully equipped to address the entirety of patients' needs in-house, during every phase of treatment. Scripps is also one of the only dental offices in Southern California led by two AACD-accredited cosmetic dentists, giving individuals an elevated level of care compared to other practices. By providing specialty dental care and utilizing cutting-edge dental technology, Scripps Center for Dental Care is committed to achieving top-notch results whether patients seek gum disease treatment, cosmetic services, or full mouth reconstruction. Dr. John Weston and Dr. Nicholas Marongiu are available for interview upon request.
To learn more, please visit scrippsdentalcare.com, facebook.com/scrippsdentalcare, or
@scrippscenterfordentalcare on Instagram.
Contact:
Scripps Center for Dental Care
XIMED Building
9850 Genesee Avenue, Suite #620
La Jolla, CA 92037
(858) 535-8300
Rosemont Media
(858) 200-0044
www.rosemontmedia.com
Contact Us Today!
For more information, or if you with to schedule a consultation, please don't hesitate to contact our office today.
Contact Us