Dental Crowns Benefits and Risks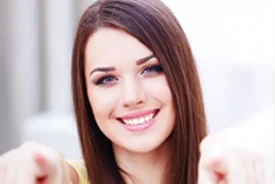 When you have a tooth that is chipped or cracked or a tooth that is severely decayed, you know just what kind of problem that can be. Your tooth may not look the best (and this may be an understatement) and, in addition, your tooth may also be the source of a great deal of sensitivity or discomfort. For these reasons, it's a good idea that you visit a San Diego cosmetic dentist here at Scripps Center for Dental Care. Our team of five highly trained dental professionals will be able to address your dental problem and effectively restore the appearance of your smile and improve your dental health in the process.
Benefits of Dental Crowns
One option that our team members may use is dental crowns. Dental crowns are these caps for your teeth that fit right over the affected tooth. The dental crowns will protect the tooth and allow you to chew food like you normally would. There are plenty of benefits to San Diego dental crowns, and only a few risks. Let's take a quick moment to address these right now.
First of all, when it comes to benefits, the biggest benefits are twofold. As we mentioned above, our team members can restore the appearance of your smile and improve your dental health in the process, and that's just what dental crowns do. The dental crown will be color-matched to your teeth, so when it's placed, it will blend in seamlessly with your smile. The crown is durable as well, meaning that it will function just as a normal tooth would. When the dental crown is in place, it will protect your tooth from further damage and will also eliminate the pain or sensitivity you deal with due to the damaged tooth.
Risks of Dental Crowns
As for risks, the main risk is that the dental crown will not be placed properly. This may mean that not enough damaged tooth material was removed to accommodate the dental crown (which may mean additional tooth damage down the road) or that the dental crown does not fit properly (which may be painful or lead to the dental crown falling out). With the team at Scripps Center for Dental Care, however, you won't need to worry about these issues. We work diligently to ensure every patient's experience is a positive one and that every visit is one that is free from problems.
Contact Us Today!
To learn more about dental crowns and the many other options we have for enhancing the appearance of your smile and improving your dental health, contact our La Jolla cosmetic and restorative dentistry center today.
Contact Us