How Do I Get a Better Fit for My Dentures?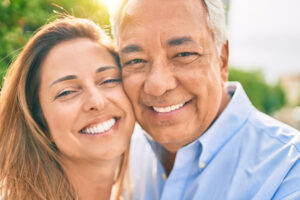 Living with missing teeth can be debilitating for many reasons, ranging from a loss of biting function to an impaired smile. Dentures have served as an effective way to replace an entire row of lost teeth for many decades, but they're not a perfect solution for some patients. In addition to gum slippage and irritation caused by these restorations, dentures may also prevent you from eating your favorite foods. Plus, the adhesives used to attach dentures to the gumline are typically messy and may not provide a comfortable, secure fit. 
Fortunately, Scripps Center for Dental Care offers an "upgrade" from traditional dentures in the form of implant-supported dentures and restorations. Just as the name suggests, implant dentures are designed to anchor a custom-made denture to your upper and/or lower jaw via dental implants. The implants replace the space in your gums usually filled by a tooth root, ensuring the jawbone is stimulated. Not only does this provide a more stable and secure fit for your denture, but the presence of an implant can prevent recession of your jawbone. Implant dentures require oral surgery, but they offer several benefits and eliminate many of the inconveniences associated with dentures, including: 
No more messy pastes to secure the denture, resulting in easier maintenance
Allowing patients to eat an unrestricted diet, including chewy and tough foods
Giving patients greater confidence when eating or speaking
Ability to maintain the strength and volume of your jawbone
Achieving greater stability for your restoration
A natural-looking smile  
Our practice in San Diego features a multispecialty team consisting of a cosmetic dentist, periodontist, prosthodontist, and oral surgeon — all in-house specialists who will collaborate to develop the best treatment plan for you. Many patients appreciate the convenience of being able to complete all stages of their implant dentures treatment under one roof without the need for outside referrals. If you're interested in a better solution for your missing teeth, or if you'd like to consult with our friendly dentists about your needs, please don't hesitate to contact our office today. 
Contact Us Today!
For more information, or if you with to schedule a consultation, please don't hesitate to contact our office today.
Contact Us