How to Repair Widespread Tooth Damage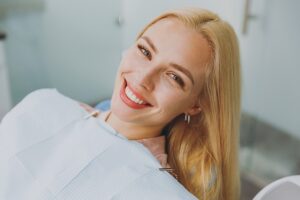 As unpredictable life events unfold, we understand that there are many reasons why individuals may experience widespread damage to the teeth and mouth. Extensive dental issues may result from financial reasons, dental anxiety, an oral injury, or unavoidable life circumstances that result in a lack of regular care. In general, those who contend with numerous dental issues may struggle with some combination of: 
Missing or crooked teeth
A painful or "bad" bite
Gum disease and poor oral hygiene
Cracks or chips in the teeth
Cosmetic concerns, such as gaps, yellow teeth, and metal crowns
Our team at Scripps Center for Dental Care takes great pride in providing patients with a safe, supportive, and judgement-free space to achieve their dental goals. All of the issues presented above can be treated with a single dental plan known as full mouth rehabilitation — a custom treatment plan designed to address all of your concerns at once with solutions like same-day crowns, porcelain veneers, dental implants, and periodontal disease treatment, among other services, depending on your unique needs. This is possible through collaboration from our specialty dental team, which encompasses board-certified orthodontists, cosmetic dentists, prosthodontists, and more. We can work together to treat all of your concerns with patience, gentleness, unwavering support, providing you with a convenient "one-stop shop" to reclaim a bright, healthy, and beautiful smile. 
At Scripps Center for Dental Care, our top priority is your happiness and ultimate satisfaction. We understand that addressing extensive dental issues can seem overwhelming, but we're committed to walking you through the entire process with compassion and care. Don't hesitate to contact our San Diego office today to start the journey towards making your dream smile a reality. 
Contact Us Today!
For more information, or if you with to schedule a consultation, please don't hesitate to contact our office today.
Contact Us