Metal vs. Tooth Colored Fillings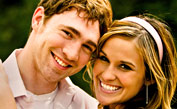 Cavities are a common dental problem that many people face. The best way to fight tooth decay is to brush regularly (at least twice a day and ideally after every meal), to floss every night, and to visit your dentist at least twice a year. When cavities do occur, it's important that you seek out a San Diego cosmetic dentist at Scripps Center for Dental Care. We'll be able to give you the exceptional care you deserve.
Dental Fillings Options
When it comes to dealing with dental caries, the degree of damage and decay will determine the best plan of treatment. Serious decay may require the use of inlays or onlays. Extreme cases of tooth decay may even require the use of San Diego dental crowns. In general, though, most regular cavities can be dealt with using dental fillings. When you get dental fillings, the unhealthy tooth structure is removed and replaced to restore the strength of the tooth and your bite.
When it comes to dental fillings, there are two options: the metal fillings of the past and the more advanced composite dental fillings.
Metal Fillings of the Past
Let's start with the kinds of fillings that you may be most familiar with. Metal fillings have been used for many years and have proven rather effective for their time. These metal fillings are made of a metal amalgam material which is set into the prepared tooth and allowed to harden.
Tooth-Colored Composite Fillings
Now let's look at composite dental fillings. These fillings are similar to metal fillings, really, except that they are made of modern dental composites. This is a special ceramic material that is sturdy and matches the color of a natural tooth.
Why Tooth-Colored Fillings Are Superior
There are plenty of reasons why tooth-colored fillings are better than metal fillings. From an aesthetic standpoint, the choice is obvious. Tooth-colored fillings are practically undetectable whereas metal fillings are that telltale shade of dark grey.
Our dental care specialists also stress to patients a number of dental health issues as well. For one, less tooth material needs to be removed when preparing a tooth for a composite filling. Composite fillings are also not susceptible to changes in shape or size in extremes of temperature, which can happen with metal fillings.
Perhaps most importantly, composite fillings do not contain any harmful substances. The same cannot be said of all metal fillings, unfortunately. Many metal fillings of the past contained mercury, which is a highly toxic substance. This explains why lots of patients have asked to have their metal fillings replaced with tooth-colored composite ones.
Tooth-Colored Fillings as Part of a Smile Makeover
Given the aesthetic and dental health benefits of tooth-colored dental fillings, it's often used in combination with other dental treatments in order to achieve a total smile makeover. It's not unheard of for patients to receive composite fillings as well as porcelain dental veneers and BriteSmile® teeth whitening to improve the beauty and health of their smile.
Schedule a Consultation for a Healthier Smile
To learn more about tooth-colored composite fillings and your many other options for enhanced dental health, contact our La Jolla cosmetic and restorative dentistry center today.
Contact Us