What is the Difference Between All-on-4 and Dentures?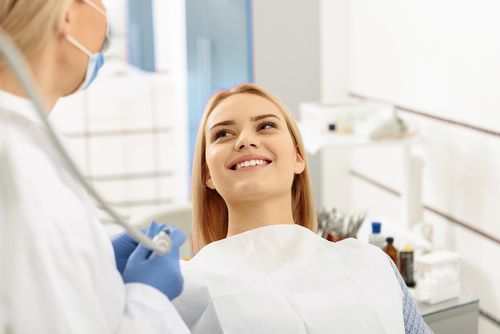 Attached dentures and All-on-4® implant dentures are both effective ways to replace an entire row of missing teeth, but the similarities between the two treatments generally end there. Dentures can indeed help circumvent some of the cosmetic and functional issues caused by missing teeth, but they often lack the security and comfort that allow individuals to eat, drink, and speak with confidence. Since they are fastened to the gums with an adhesive, dentures can cause gum irritation as well as restrictions on what individuals can and cannot eat. These inconveniences are just some of the reasons why patients often seek out a better solution to replace a missing dental arch. 
All-on-4® can resolve many of the functional issues presented by traditional dentures with strategic placement of four dental implants. These implants, which are titanium posts shaped like a natural tooth root, secure your customized denture in place by affixing it to the gumline. Not only does the use of implants anchor your denture, but it also stimulates the jawbone to prevent further bone loss. This treatment offers a number of other benefits over traditional dentures, including:
The ability to eat tougher, chewier foods
The convenience of not having to attach your denture with pastes and adhesives every day
Having a secure prosthesis that looks and feels like your natural teeth
The comfort of having a long-lasting tooth replacement
Little to no maintenance besides daily brushing and flossing
Simply put, the main difference between dentures and All-on-4® is a greater degree of security in the implant denture technique. If you have any questions, or if you are seeking an advanced denture upgrade, please contact Scripps Center for Dental Care to learn more.
Contact Us Today!
For more information, or if you with to schedule a consultation, please don't hesitate to contact our office today.
Contact Us