Patient Options: Oral Conscious vs. IV Sedation Dentistry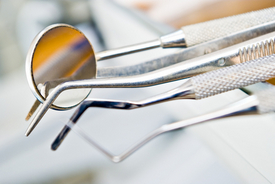 Many people get a little nervous about going to the dentist. These minor worries are common to everyone, though: possible cavities, possible gum disease, some other and unnoticeable dental problem. If those basic worries describe you, then you should know that they are normal.
However, some people suffer from debilitating dental anxiety that can make even a routine checkup extremely difficult. The team at our San Diego cosmetic dentistry center in La Jolla would like to look into this issue right now.
About Dental Anxiety
Dental anxiety refers to extreme fear or trepidation about dentists or dental visits. People who suffer from this will often experience panic attacks and major nervousness when undergoing dental care. Some people with extreme anxiety will even avoid meeting with our dentists in La Jolla for years and years despite major dental problems.
What is sedation dentistry?
Sedation dentistry refers to various techniques that can help patients achieve a relaxed state. Sedation dentistry does not mean the use of general anesthesia, however. The drugs used in sedation dentistry render a patient completely at ease but conscious so that basic treatments or advanced therapies can be performed with the patient able to provide responses.
Ideal Candidates for Sedation Dentistry
The best candidates for San Diego sedation dentistry include:
People with dental anxiety
People with poor gag reflex
People who are unable to sit still for long periods of time due to medical conditions (e.g., cerebral palsy, Parkinson's disease)
People undergoing major dental care treatments that will take time to complete
There are different ways to achieve this conscious but relaxed state. Let's compare oral sedation and IV sedation.
Oral Conscious Sedation
Oral conscious sedation refers to the use of a liquid or pill prior to the dental visit. This will put the patient in that relaxed state. Patients will need to arrange for transportation to and from the appointment as they will be in no fit state to operate a vehicle.
IV Sedation
IV sedation refers to the use of sedation drugs administered intravenously at the practice. As with oral conscious sedation, patients will need to arrange for transportation to and from the appointment in order to ensure their safety.
Which option is best for my needs?
It really depends. If you tolerate needles well, then IV sedation and oral conscious sedation are both good options. For people who are afraid of needles, obviously IV sedation is out of the question, however. We also use nitrous oxide as part of our comprehensive dental care treatment, and this can also help patients achieve that ideal and relaxed state. (You may know nitrous oxide better as laughing gas.)
During your consultation, we will assess your needs and all of your options and then act accordingly. Rest assured that your comfort and well-being are of our utmost concern.
Learn More About Advanced Dental Health Options
If you would like more information about dental care treatment options and how you can achieve the best possible dental health, be sure to contact our La Jolla cosmetic and restorative dentistry center today. The entire team looks forward to meeting you in person and helping you achieve the best possible dental health.
Contact Us