The Lava Chairside Oral Scanner: How Digital Dental Impressions Work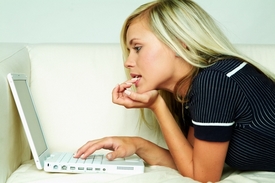 In order to ensure our patients receive the best possible dental care, we use the latest advances in dental heath technology. This means the elimination of traditional tools and the use of the latest in laser and digital technology. In the case of x-rays and impressions, we're particularly happy to use advanced technology that greatly reduces radiation exposure and also enhances patient comfort. That's why the Lava Chairside Oral Scanner is such a great step forward.
When you meet with a San Diego cosmetic dentist at our practice, you may undergo a scan using this technology. Let's take a few moments right now to see what it is about the Lava Chairside Oral Scanner that makes it so effective.
Why digital impressions?
In the past, dental impressions were taken with trays and putty. It was an effective standby for ages, but there were downsides. The trays can be invasive and uncomfortable even though they are only in place for a brief amount of time. Removal of the trays once the putty had set could also be uncomfortable. Patients also had to experience the not-so-appealing taste of the dental putty.
With digital impressions, our dentists in La Jolla eliminate those unsavory parts of a dental visit. Rather than using a tray to get a mold of the teeth, the Lava Chairside Oral Scanner involves the use of a device that's about the size of a toothbrush. That means no discomfort, no gagging, and no lingering and tacky aftertaste.
How accurate are digital impressions?
The Lava Chairside Oral Scanner impressions are extremely accurate. A full three-dimensional model of the teeth is taken, allowing both the dentist and the patient to look at it from all angles.
The Lava Chairside Oral Scanner – How it Works
Using this particular bit of dental care technology is easy. The Lava Chairside Oral Scanner handpiece is placed in the patient's mouth. By moving the handpiece around, a continuous, three-dimensional image of the mouth is created in real time. Once the digital impression is completed, it can then be emailed to a dental lab so that various dental restorations can be created.
Applications for the Lava Chairside Oral Scanner
The Lava Chairside Oral Scanner is a real boon for performing various kinds of dental care services, including the crafting of:
Dental bridges
Dentures
Dental crowns
Porcelain veneers
What This Means for Patients and Professionals
By using the Lava Chairside Oral Scanner, our dentists can take incredibly accurate scans of the teeth that result in the creation of perfectly fit San Diego porcelain veneers, dental crowns, and other dental restorations. Since there is no discomfort involved, patients can sit back and relax while we help enhance dental health and dental aesthetics.
In addition, the use of a digital impression means less material costs and waste for our practice and no need to mail a mold. Instead, the information that a dental lab needs is emailed directly to them, ensuring a much quicker turnaround for the dental restorations or dental appliances.
In the end, the Lava Chairside Oral Scanner means gains for everyone involved.
Learn More About Advanced Dental Care Treatment
For more information about all of the dental care treatments we offer and the technology available at our practice, be sure to contact our La Jolla cosmetic dentistry center today. Our entire team looks forward to meeting you in person and helping you achieve the best possible dental health and the most beautiful smile possible.
Contact Us